In the face on an unprecedented crisis
When brand custodians and marketeers were setting-out to plan for 2020, no one could have foreseen a situation even remotely close to the one we are witnessing with the current COVID-19 crisis. How does one allocate budgets to a media mix when cinemas are closed, malls are shut-down, curfews have been imposed and life as we had known it, drastically altered?
"Stay-at-home" delivering significant surges to TV's performance
Amidst all the turmoil which this pandemic has caused; "STAY-AT-HOME" initiatives around the globe have transformed our homes into our new -offices, schools, restaurants, and gyms, amongst a host of the many other purposeful venues, that our lives revolve around. TV has continued to play a role, proving its worth once again as our ultimate companion, as well as our most reliable source of information.
During such challenging periods and with the significant surge being witnessed in TV's overall performance, we all have to think differently about how to benefit from this change, especially with the new day time consumption behavior on TV, as well as the curfew on different services, across different time zones spreading out across the MENA region (mainly in KSA and the UAE).
Converting Challenges into Opportunities
Marketers are now facing new challenges; on one hand, they do not want to stop their communication in such a situation, and on the other hand, how can they communicate effectively and efficiently? KFC was one of the first brands to swiftly adapt to the new situation, by launching a contact-less and free delivery service, which promised to ensure the hygiene and safety of their products, as well as their delivery service.
Benefitting from the Brand4mance advantage
Partnering with Brand4mance – the revolutionary TV Attribution solution which measures the impact of TV ads on brand's e-commerce – KFC launched a TV campaign communicating its new service across the MENA region. The campaign was time bound, respecting curfews across the region and therefore all spots were aired on what is traditionally referred to as "off-peak" time slots. Reiterating the power of TV, Brand4mance enabled KFC to monitor its campaign in real-time, spot by spot, which also allows for shifts and optimization toward the best performing channels, segments, days of week, and time of day.
Just like digital, Brand4formacne can help brands optimize in real-time, by leveraging on its partnership with Adalyser. This secures the solution's ability to optimize performance based on business impact.
A big thank you to our partners in success at KFC and Hearts & Science, who all held-on to the conviction to reach out to their audience and to optimize performance, by choosing TV as the vehicle and Brand4mance as the solution: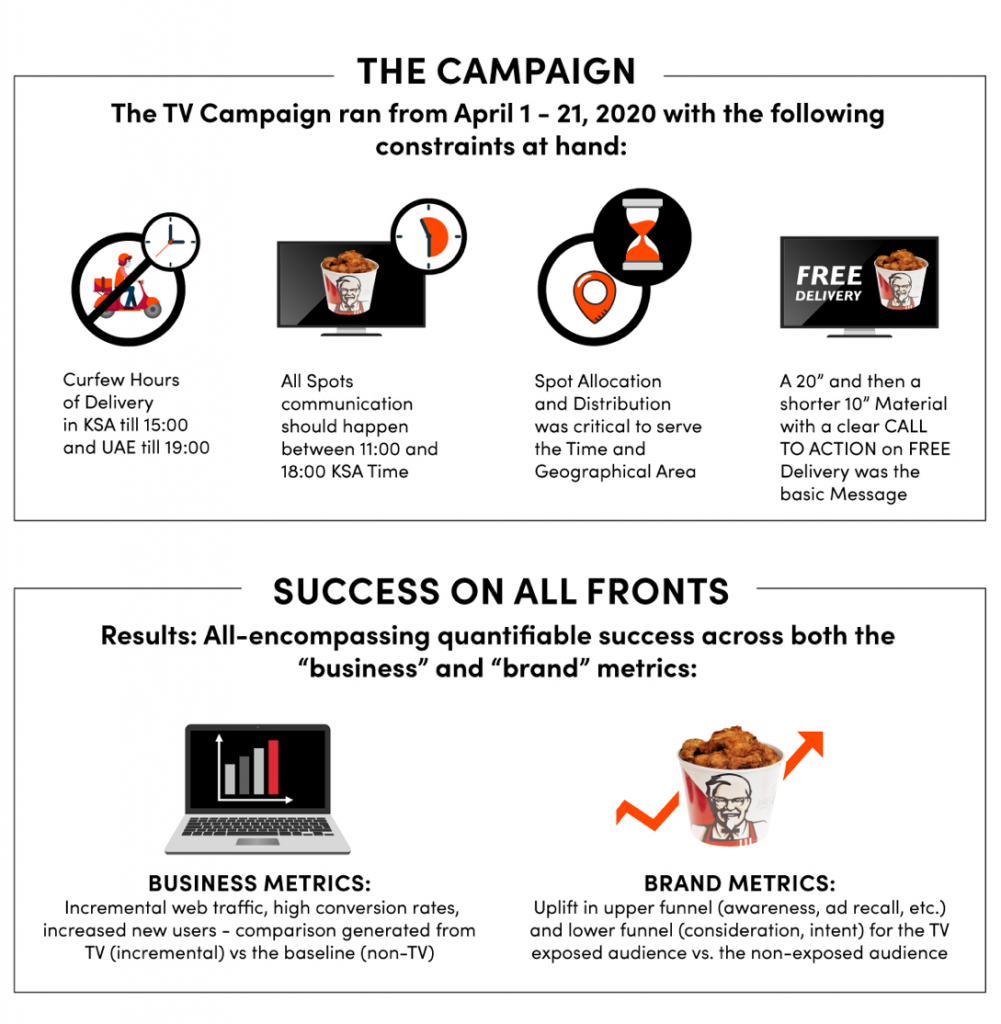 Ozge Zoralioglu, Chief Marketing Officer – KFC: "During challenging times such as these, we must adapt an agile approach and strategy to keep connecting with KFC consumers by maintaining an effective level of communication. Since media channels do not work in silos, this activation allowed us to further understand the holistic impact of TV and quantify its ROI. Credit goes to all the teams involved for their innovative approach and smooth execution, which impacted KFC's brand and business results positively."
Fadi Maktabi, Managing Director – Hearts & Science: "We were very excited to partner with KFC and Brand4mance once again on this project, as the initial results (over a year ago) had already proven to be successful. With the rise in TV and digital media consumption due to the current COVID-19 pandemic, we were quick to re-evaluate the role of each media to help fuel greater performance and continue to deliver on the aligned business objectives. This is a great example of collaborative agile planning, where data-driven insights were leveraged on a weekly basis to optimize both the spot positioning and creative messaging."
More brands in MENA must step-up to this transformation and explore how much TV can truly deliver. Is your brand ready to benefit from TV speaking the language of digital?