By Atif Altaf, associate marketing manager, and member of the International Council of Shopping Centers (ICSC)
Life is no more a straight road leading toward dreams; it is now a steep mountain to climb up high. Days from being 'slow & steady' are geared up to be 'fast & ready' for people to run, change and adapt. Similarly, media is getting revolutionized and this is picking up the speed every day without any limits. Global communication is being filtered through palm-sized mobile phones and people are being exposed to millions of messages every day. No wonder that the attention span of audiences has become very short and marketing these messages has become a challenge.
Instagram is one platform that has addressed the changing needs of the global community and introduced a new form of communication called Instagram Stories. These stories are up for each individual and every business to adopt and spread the message around. Since social media is a product of the modern age, people are still figuring out the ways to use it and reap benefit out of it. There are many approaches to follow in order to understand the various classifications of stories and to elevate brand content to the next level.
1. Day to Day content approach:
The basic and simplest approach many brands follow is to post on-spot product images with a small caption. Usually, the images represent various line items from a particular category. One such example is The Aventura mall, a super-regional shopping mall in Aventura, Florida, which posts female fashion products of various in-mall brands including Emilio Pucci, Coach, Jcrew and Anthropologie.
Another example is 360 Mall, a luxury shopping mall in Al Zahra area, Kuwait, which illustrates various products of a single brand, such as Tory Burch to highlight the full range.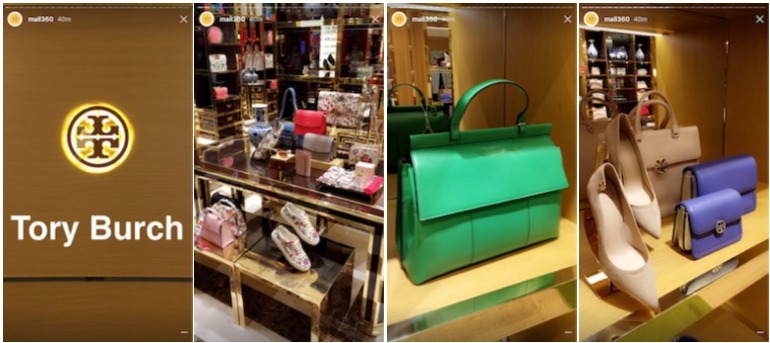 2. Elaborative approach
As these stories are intended to capture the interest of online audiences, it is always preferred to use a human element. An image with actual people in it is more attention-grabbing than a plain image with products or brand names. Sephora's approach brings in the human element while also highlighting the brand and product.
American department store chain, Macy's, on the other hand, has gone all out to include full models in skillfully created collages. In both cases, the human factor dominates the image and products are well illustrated.
3. Inspirational approach
Although businesses are using Instagram extensively to reach their audience, the platform is not only about brands and products. While a direct approach – like the two stated above – may motivate some consumers, there's another indirect but persuasive strategy to influence users by providing them a glimpse that encourages them to check out the complete story. This approach must inspire users and leave an impression about the brand – whether it's a product, service or destination.
For instance, Souk Madinat Jumeirah, which combines modern and traditional Middle Eastern shopping experiences in Dubai, UAE wanted to attract more tourists to their mall and resort. So, it followed this approach to build communication around landmarks, creating memories and family, fun time to leave a mark in users' minds and provide a hint to plan their travels.
4. Right to the point approach
The simple rule of supply and demand applies here wherein marketers are foreseeing upcoming needs and developing solutions in advance to cater to them. When a brand or destination fulfills the desires of its customers by recognizing their needs before they do, it develops a strong bond of loyalty where people start to depend upon it as a trusted brand name. The Mall of America, a shopping mall located in Bloomington, Minnesota, advanced this approach on Father's Day when it gave a perfect set of gift options for its followers.
Los Angeles Country Museum of Arts (LACMA) took a similar approach to speak to the art-loving and wandering minds to plan their weekend.
5. Symbolic/Thematic approach
While product shots can be great for some brands, posting one right away – or in its natural environment – is not always the best idea. Visual art and animation trends are always changing and users connect to these themes and filters more than usual. Animations can be clubbed with realistic elements to create a theme that fits the product presenting a huge opportunity for creativity and product appeal. For instance, Starbucks, which is an appealing brand to many, introduced its summer coolers range through a thematic approach rather than mere product shots.
Similarly, Macy's always leads on this approach and amazes its followers with inspirational and creative stories focusing on a particularly relevant theme.
6. Sequential approach
The trend now is to build up a sequence – basically, a series of interlinked images where one image provokes a user to tap to explore the next and so on until it delivers the entire message. This approach grabs more attention and engagement by intriguing the user to keep going so most users explore the full story versus losing interest after a few taps because the posts are not sequential. Again, Macy's is a fantastic example of this approach where tap after tap, one element was added to the story, keeping the user fully engaged right to the end.
7. Optical illusion approach
One thing that never fails is smart and creative imagery that blends skillful photography with creative art. Aesthetically intriguing images always attract and appeal to users. Not only do users spend more time viewing the image to make sense of it, but also tend to engage more with it.
In an exquisite effort to promote its male fashion line, Hermès International developed a campaign to showcase mirror images of city monuments along with a mix of brand promotion. The story turned out to be classy and communicated the elegance of the brand right to its audience.
Digital marketing experts have estimated that most Americans are exposed to 4,000 to 10,000 ads on a daily basis. This is a straightforward indication for brands to develop striking and memorable communication strategies that leave a mark in their consumers' mind and stand out amidst the clutter. Insta Stories are as quick as people are today… always on the move. And if brands are to stand out and speak to these audiences, what better way to do it than through one (or more) of these approaches.