Global location intelligence company Blis is now stepping into a new frontier of geo-location-based mobile advertising through its partnership with TVTY. A "moment marketing company," TVTY brings to the partnership the ability to launch location-based digital ad campaigns reacting to real-time events.
These real-time events include "sporting events, changes in the weather or even stock market fluctuations," according to a statement by Blis. The technology enables advertisers to capitalize on specific interests without having to manually monitor for these moments to occur.
TVTY's recently announced Social Trend Trigger also enables brands to hyper-targeted campaigns when certain keywords or phrases are trending on social media.
When can brands use this kind of personalized geo-location advertising?
For instance, during Ramadan in Dubai, marketers can engage consumers with relevant and personalized messages, such as ads for supermarkets or restaurants ahead of Iftar and Suhoor. By harnessing social media insights in their location-powered campaigns, brands will be able to deliver ads at the right moment, improving campaign performance and ensuring return on media spend is maximized.
How do Blis and TVTY ensure that geo-location campaigns are agile and personalized?
By processing and analyzing huge data sets about consumer mobile behavior, Blis is able to provide in-depth knowledge about target audiences based on location and other contextual data. On the other hand, TVTY's platform accurately monitors more than one million moments a day, including TV ads, weather, sporting events, and other live-data feeds. Together, these capabilities merge the opportunities of moment marketing with location-powered advertising to improve campaign performance and maximize ROI.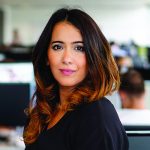 "Across the Middle East, particularly during certain times of year, timing is crucial for advertisers hoping to engage with consumers," says Puja Pannum, managing director, Middle East at Blis, in a statement. "At Blis, we see mobile marketing and TV as two stages of the same journey for consumers. With full integration between the TVTY platform and Blis' technology, clients can harness the benefits of the Social Trend Trigger and location-based moment marketing. This allows mobile advertisers in the region to optimize their campaigns as they can be sure their ads are only being served to consumers at the appropriate part of day given the time of year, for instance ahead of Iftar and Suhoor."
"We're already seeing a huge interest from brands in our Social Trend Trigger. Partnering with Blis and adding sophisticated location-based targeting will make it an even more attractive option for marketers," adds Eliott Reilhac, CEO of TVTY.