The pandemic has caused a dramatic shift to e-commerce. And studies have shown that the switch to online is here to stay in MENA, with 75% of KSA's consumers and 65% of shoppers in the UAE stating it as their preferred way of fashion shopping in 2021, according to "The Smart Shopper, Saudi Arabia, 2021" report by Google/Kantar.
Ounass, a luxury online retailer operating in six countries in the region, noticed the growing digital demand of its customers. They also knew that the competition, and subsequently the price, on high-performing keywords was rapidly rising as other retailers raced to meet their customers' growing appetite for online shopping. They had to find a way to stand out.
The solution to meet these fast-evolving needs was moving to an automated approach. With automation, Ounass was able to not only meet their users at one stage of the online shopping journey, but at every stage — from window-shopping through to intentful browsing — in a cost-effective way.
Shifting to dynamic Search ads to meet the dynamic consumer
The desire to focus advertising budgets on the winning names made sense in the past. However, the growing competition for eyeballs on Search ads meant that Ounass's previously successful method had become outdated. Bids became expensive and resulted in a low ROI. And with additional budget restrictions caused by the pandemic, it was clear that sticking to the old approach was not going to be sustainable.
With 96% of consumers in the UAE doing online research before buying a fashion item according to "The Smart Shopper, United Arab Emirates, 2021" report by Google/Kantar, motivating the dynamic shopper along their path to an online purchase was key. Automation was a cost-effective and low effort way for Ounass to identify what their constantly-connected customers were interested in, beyond the best-sellers. This is why the luxury retailer decided to work with the agency Merkle, a Google Marketing Platform partner, to leverage automated, 'real-time' Search inventory campaigns across their full product catalogue.
In inventory campaigns, Search Ads 360 automatically adds, removes, and changes campaigns as product inventory changes. This means that if a product is new, sells out, or goes on sale, ads and keywords are automatically built or paused in real-time to reflect stock availability. Ad copy is then automatically updated across thousands of products to communicate latest pricing or promotions.
"We understood the importance of leveraging the power of automation by developing an efficient way to run smarter marketing campaigns and capture the right intent efficiently and dynamically," said Stanislas Brunais, Head of Marketing at Ounass.
This new approach was more cost-efficient than their previous one, and effective in setting Ounass up to capture the growing digital demand for their wide portfolio of products. This helped the team tap into the missed opportunity of reaching niche keywords beyond the top performing 20% of brands they'd previously solely focused their efforts on.
Automation for tailor-made ads
So what does an automated and tailored approach to Search ad creation look like? "Imagine someone searching on Google for an exact luxury product name that they are looking to buy," Beth Williams, Performance Media Director at Merkle, explained. "The solution would go through Ounass's inventory in real time and assess the availability of the product in stock. If it's available, the system would automatically show a search ad with relevant information, along with the corresponding landing page."
Here are two examples of Search-based inventory ads, the first tailored around fast delivery for a specific brand, and the second focusing on a discount for another brand.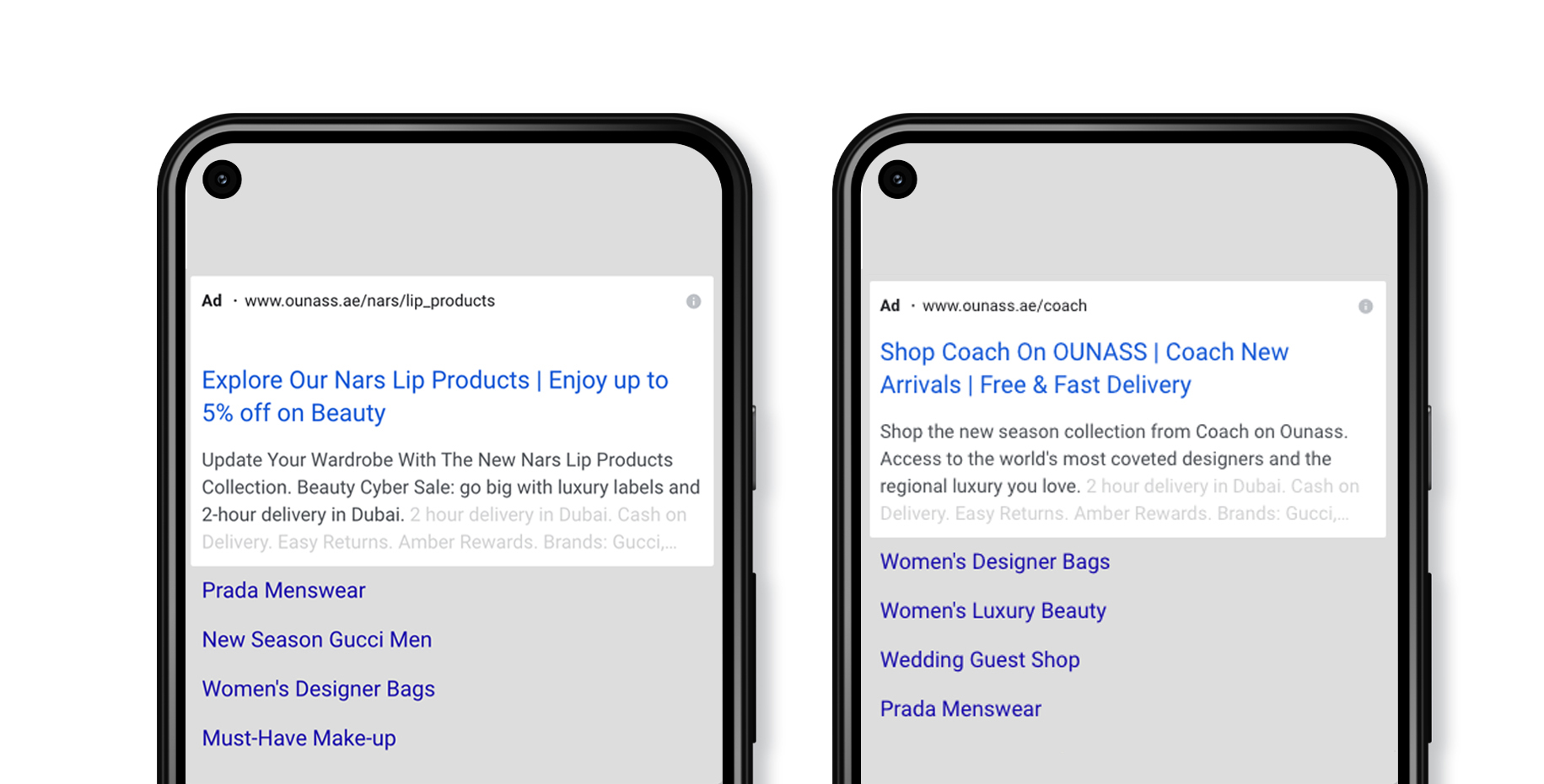 In the first instance, 'Coach' is dynamically added based on user search queries related to the brand's new collection. The text-based ad draws attention to the brand's specific offerings, with a link to the brand's collection on the Ounass site. Similarly, if a user searches for 'Nars,' a brand that Ounass offers, the ad is automatically updated based on the consumer's search query and the product's availability in Ounass's inventory.
Favorite brands lead to favorable results
Understanding and adapting to the market challenges by shifting to an automated approach proved to be a success for Ounass.
"With online shopping taking center stage during the pandemic, Ounass's shift towards automation with its inventory campaigns led to an increase in revenue by over 60%, while driving 39% higher ROI compared to similar channels," Faizan Ahmed, Marketing Manager at Ounass, said.
Not only that but there were time savings for the advertiser too. The adoption of this automated inventory solution has helped decrease Ounass's time investment by 36%, as they no longer had to manually adapt their search campaigns.
By automating their approach and focusing their ads not only on the best-selling products but on their entire inventory, Ounass improved the efficiency of their digital advertising — and remained relevant during a time of constant change.
This piece was originally published on "Think with Google."