At the first online 'YouTube Festival' event for advertisers in MENA, YouTube announced new research on audience viewership and watch time of YouTube in the UAE and Saudi Arabia. The most trending categories in both countries were gaming, fitness and learning, followed by a new popular category - shopping.
According to a new study by Kantar, 90% of shoppers in the UAE, Saudi Arabia and Egypt search online before making purchase decisions. This is also applied for fast-moving consumer goods (FMCG). The study also shows that one out of three shoppers use online video to get inspired and explore options before they buy. An analysis of 3,000 retail-related videos in the UAE, Saudi Arabia, and Egypt showed that people turn to YouTube to explore product options before purchasing and watch reviews and recommendations from creators.
YouTube watch time in the UAE and Saudi Arabia:
In August of last year, YouTube reached over 7 million individuals in the UAE and around 20 million in Saudi Arabia (ages 18+) with an average watch time of 70 minutes per day in the UAE and 55 minutes in the Kingdom. Local content continues to be popular, with 7 out of 10 most watched videos in the Kingdom were locally produced by Saudi content creators.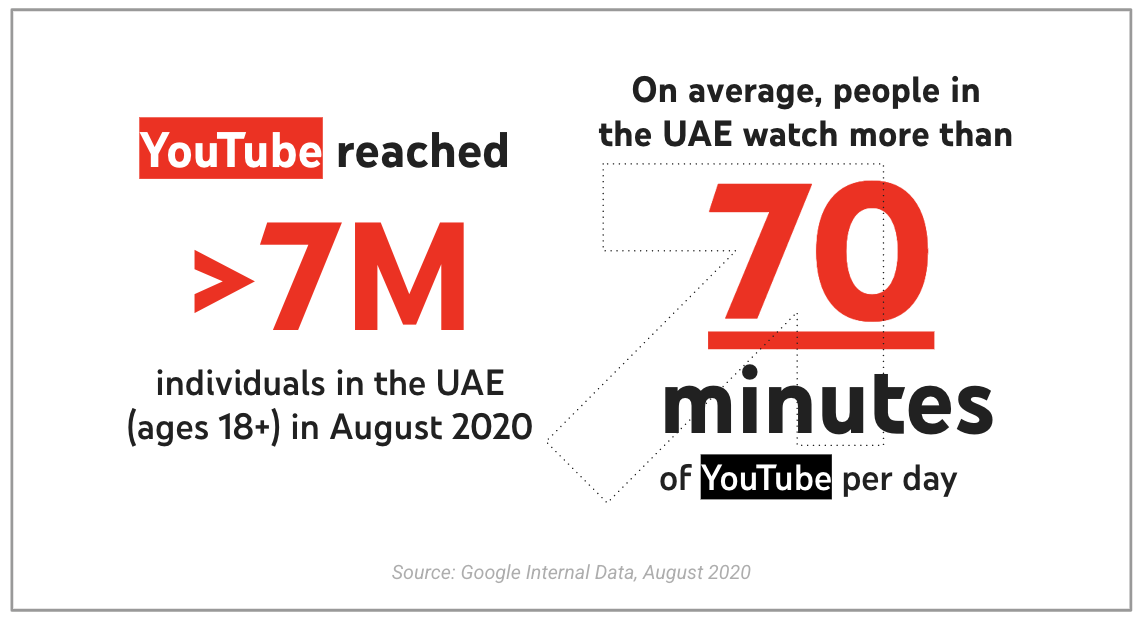 "People in MENA come to YouTube to watch more personalized content and high quality entertainment videos produced by their local content creators. They are looking for relevant and relatable video content that may not always be available in more traditional media. This is evident in the continuous watch time growth across devices including TV and the growing popularity of new content genres like gaming and learning," commented Souheil Soueid, Head of Advertising Products & Solutions at Google and YouTube in MENA.
Last month, YouTube held its biggest virtual event in MENA for businesses, advertisers and agencies where it shared new audience insights, viewership and watch time data and the latest tools to support advertisers.