Influencer Marketing Hub, the leading resource for influencers and marketing professionals along with influencer marketing platform Upfluence, have released the Influencer Marketing Benchmark Report for 2021. The report surveyed more than 5000 marketing agencies, brands and other relevant professionals to determine their views and build insight into their thoughts on the industry. With regards to 2020, there was a major slow down in influencer marketing spend from March - July 2020 as the pandemic unfolded, followed by a spike in influencer led campaigns from August onwards. There was also a significant increase in the use of TikTok for influencer marketing. Despite all the uncertainties caused by COVID in 2020, influencer marketing is still a highly popular and effective form of marketing.
Influencer marketing industry is set to grow to approximately $13.8 Billion in 2021
Barring industries such as travel and tourism who've had to retrench dramatically, most industries have managed to adjust their models in reaction to the changes in the market, that was caused by the pandemic. People now spend considerably more time online than ever before. As a result, the demand for influencer marketing as a strategy has grown considerably in 2020 and is set to grow even higher in demand in 2021. From a mere $1.7 billion in 2016, influencer marketing is estimated to have grown to have a market size of $9.7 billion in 2020. This is expected to jump to $13.8 billion in 2021.
As influencer marketing has matured as an industry, it has attracted support companies and apps to simplify the process for both brands and influencers. Organic influencer marketing can be a slow and tedious process, particularly when finding and wooing influencers to promote your company's products or services. According to the report, in 2020, 240 new influencer marketing-focused platforms and agencies entered the market. The report cited it as one of the largest increases over the years and takes the list of total influencer agencies and platforms to 1360. [ Authors note - The survey methodology cites the responses came from a variety of regions - 47% from USA, 11% Europe, 13% Asia (APAC), 5% Africa and19% describing their location as other.]
Initially, during the pandemic, there were concerns around cut backs on influencer campaign spending due to COVID-19 but that was short-lived. While the pandemic had an initial effect during Q1 and! Q2 2020, with 1945 campaigns in Q1 2020 falling further to 1575 in Q2, things changed substantially in the second half of the year. Influencer campaigns rose dramatically to 2163 in Q3, with an even larger jump in Q4 to 2901. This was evident in the abundance of content that was seen online as brands sought to influencers for content to promot their brands.
An increasing majority have a standalone budget for content marketing
The majority of respondents (59%) admit to having a standalone budget for content marketing, and 75% of them intend to dedicate a budget to influencer marketing in 2021. Brands of all sizes engage in influencer marketing. Therefore, it should be no surprise to see quite some variation on what firms spend on the activity. 49% of the brands surveyed said they spend less than $10K annually on influencer marketing. 23% spend between $10K and $50K. A further 12% spend $50K to $100K, 7.5% spend $100K to $500K, and 8.6% spend more than $500K.
The report also noted that 77% of survey respondents claimed that they ran their influencer campaigns in-house, with the remaining 23% opting to use agencies or managed services for their influencer marketing. In the past, firms found influencer marketing challenging because they lacked the tools to facilitate the process – organic influencer marketing can be a hit-and-miss, making it frustrating for brands trying to meet their goals. However, many firms now use tools (whether in-house or from third parties) to facilitate the process.
Some brands prefer to use agencies when working with micro and nano-influencers because the agencies are more experienced at working with influencers at scale. Also, larger firms use agencies for all of their marketing, including influencer marketing.
Clearly, the amount that a firm spends depends on its total marketing budget and the proportion it chooses to devote to influencer marketing. Those brands that opt to work with mega-influencers and celebrities spend more than brands that work alongside micro- or nano-influencers. COVID has the effect of increasing the extremes – firms have either decreased their influencer marketing noticeably or have put more emphasis on the practice and spent more on it.
Firms value working with influencers they know
56% respondents cited working with the same influencers for multiple campaigns rather than approaching new ones for each campaign. Clearly, brands prefer to build up relationships with existing influencers rather than going through the full influencer selection process every time they run a campaign. Of course, some firms will have a range of influencers they call upon, depending on the nature of a particular campaign, the products they are trying to promote, and the target market.
Half of the firms working with influencers operate e-commerce stores
50.7% of the respondents in the survey run e-commerce stores. E-commerce continues to rise in popularity as consumers shopping habits changed in 2020. It also brought about the rise of strategies such as live commerce and social commerce. Strategies that heavily rely on influencers and personalities who can reel in an audience.
The most common measurement of influencer marketing success is conversions/sales
In 2019 and preceding years, influencer marketing measurement's focus was relatively evenly balanced between differing campaign goals, but conversion/sales was the least-supported reason. In 2020 and 2021, things have changed. Influencer marketing is sufficiently widespread now that most businesses understand that the best way to measure your influencer marketing ROI is by using a metric that measures your campaigns' goals.
Clearly, more brands are now focusing on using influencer marketing to generate tangible results. 38.5% believe that you should gauge a campaign success by the conversions/sales result. The remaining respondents have differing goals for their campaign, with 32.5% most interested in engagement or clicks generated due to a campaign, and 29% interested in views/reach/impression.
Influencer campaign channels
Instagram remains the network of choice for influencer marketing campaigns. However, its dominance has fallen this year. 68% of survey respondents consider Instagram important for their influencer marketing campaigns. The most significant change comes in second place, with 45% of respondents now using TikTok for their influencer marketing campaigns.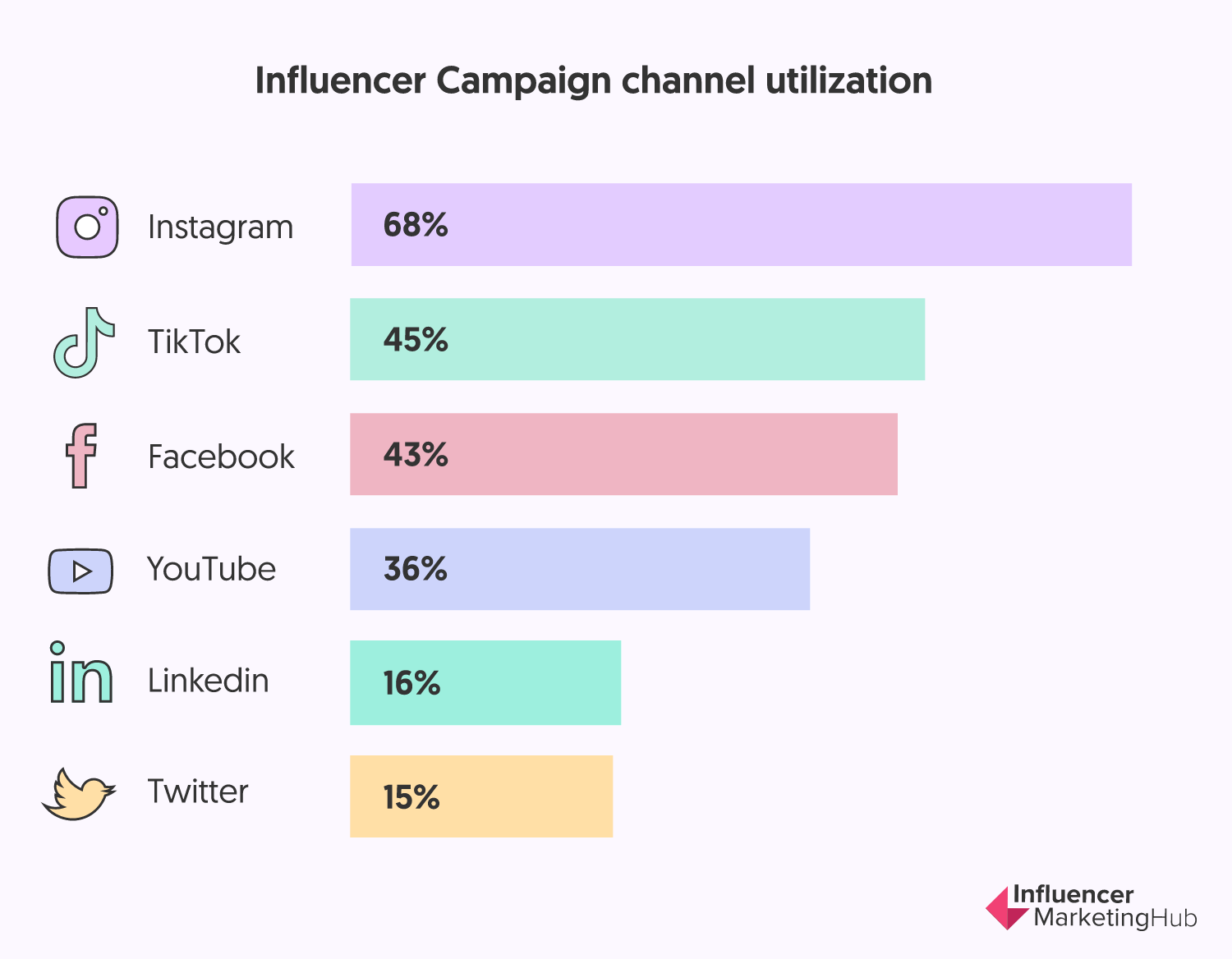 Apart from TikTok's new-found prominence, the most notable differences are a decline in Twitter from 22% to 15%, an increase in LinkedIn from 12% to 16%.
2020 also witnessed an enormous rise in influencer marketing on TikTok and Twitch in 2020. Both social networks saw some growth in influencer usage in 2019, Twitch rising from 9,990 influencers to 15,754 and TikTok rising from 16,394 to 35,528. However, 2020 with its lockdowns and other COVID-related issues, has seen Twitch influencers more than double from 15,754 to 36,663, and TikTok rising from 35,528 to 106,104.
Influencer fraud is still of concern for marketeers
Influencer fraud has been one of the key reasons why there's always been a conflict between marketeers and influencers. But now there are many tools to help detect fraudsters, reducing the effects of influencer fraud. However, the issue is not completely out of the picture or from the minds of brands and marketeers. The pandemic has managed to dim the light on news about influencer fraud in 2020.
The percentage of marketeers worrying about fraud has only dropped by one percent (68-67%). While the number of firms worrying about fraud only fell by a small amount, there was actually a significant drop in influencer fraud experienced last year. In 2019, 68% of respondents claimed to have experienced fraud. In 2020, only 38% claimed to have suffered. While the stats show signs of promise, it's still a cause for concern for many marketeers and an issue that needs to be closely watched.