UM MENAT has taken a step towards environmental sustainability by joining forces with a Teads' tool to assess and address the carbon emissions linked to the media agency's advertising campaigns. With success achieved in Saudi Arabia during the initial rollout, UM and Teads are now poised to expand this eco-friendly initiative across the entire MENAT region.
Today's conscious consumers are showing a growing preference for companies that prioritize sustainability and have a clear purpose. According to Scope 3 estimates, 1 million digital ad impressions are equivalent to a flight between Paris and New York in terms of environmental impact. In response to this concern, at the beginning of this year, Teads announced a global partnership with IMPACT+, a leading third-party solution aimed at reducing greenhouse gas emissions in the digital advertising industry.
The primary goal of this collaboration is to foster a sustainable media ecosystem that prioritizes respectful ad experience while also supporting quality journalism. By working together, Teads and IMPACT+ are committed to addressing environmental concerns in the digital advertising space and aligning with the values of today's environmentally conscious consumers.
Within this framework, UM will execute campaigns for clients, which will be measured by Teads through its supply chain using carbon measurement and reduction initiatives exclusively available through Teads Ad Manager. By incorporating this data into the planning and execution phases, UM and Teads can create a more carbon-efficient solution.
Teads is dedicated to minimizing the use of heavy creatives, reducing wasted impressions caused by inefficiencies in viewability, attention, and targeting, and eliminating technological challenges associated with excessive quantities across various platforms. By providing an end-to-end omnichannel platform and forming direct partnerships with premium publishers, Teads has the capability to oversee multiple aspects of the media supply chain.
A comprehensive analysis of multiple domains directly integrated with Teads revealed a 99% reduction in ad selection emissions compared to typical programmatic buying practices. Furthermore, when evaluating the carbon emission levels of three campaigns, it was observed that they generated 30% fewer emissions than the average campaign lacking conscious planning. Moreover, in-flight optimization efforts contributed to an additional 14% reduction in emissions.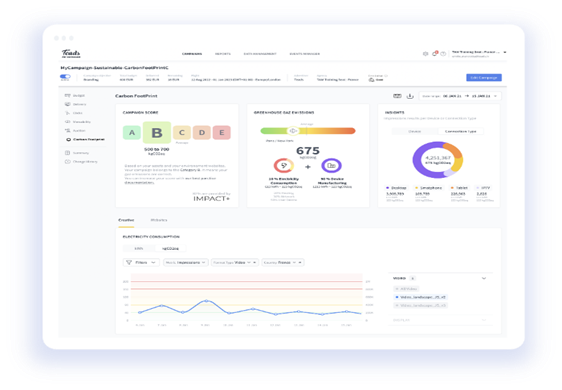 Importantly, these initiatives were executed without compromising media effectiveness, as evidenced by data collected - through rate of 75.7% and a robust viewability rate of 74.96%.
Complete rate KSA benchmark (10s) (2023) - 71.59% (source Plarform)
Viewability KSA Benchmark (2023): 71.94% (source Plarform)
"Since April of this year, we have made substantial progress as part of our UM commitment to reducing carbon emissions through an omnichannel approach. Our efforts in Saudi Arabia have not only contributed to minimizing the environmental impact of our industry but have also demonstrated positive outcomes in terms of media efficiency and effectiveness. We eagerly anticipate further advancements in this area throughout the next couple of years, working closely with Teads and extending the solution across the MENAT region," commented Nadeem Ibrahim, Head of Digital at UM KSA.
"Through utilizing Teads' direct inventory via its ad manager and adopting a mindful media planning approach in collaboration with UM, this partnership is determined to make a significant impact. It represents a shared commitment to building a better world through innovation, responsibility, and environmental stewardship. Together, they strive to inspire the industry and establish new benchmarks for sustainable advertising practices," commented Wael Zeidan, Deputy Managing Director at Teads KSA.