Other
The winners of the 6th Cannes Corporate Media & TV Awards 2015 have been awarded
The winners of the sixth Cannes Corporate Media & TV Awards – one of the world's most important festivals in the corporate audiovisual industry – were revealed on Thursday, October 15, at Palm Beach Cannes during an Awards Gala Dinner. More than 270 guests travelled from all over the world to take part in the festivities.
The international competition received 772 submissions representing 40 countries, some as far-reaching as Australia, Brazil, Canada, Hong Kong, Japan, Qatar, Russia, Singapore, Taiwan, Thailand, the UAE and the USA. A total of 152 productions were awarded the coveted Dolphin Trophies in Gold, Silver and Black. The list of winners can be found on the festival's website.
The film production company Lichtspiele 'The Film Agency' was awarded the Grand Prix for the image film The Heartbeat of Switzerland for the client Swiss Federal Railways. The film was also awarded a White Dolphin, Gold Dolphin, Silver Dolphin
and two Black Dolphins for Best Director and Best Camera. Lichtspiele 'The Film Agency' also bagged the Blue Dolphin for the best production company of the year, an award that has been given away for the first time. "Production-wise, it is exemplary and the whole concept worked: it has a good story, is well written, has a good soundtrack and an emotional overtone," says jury president, Peter Beck.
Here are some of the other winners of the Cannes Corporate Media & TV Awards 2015:
Mubadala (AE)
SBS Television (AU)
ORF (AT)
Infinity Communications Inc. (CA)
TVE / Corporacion RTVE (ES), Publicis (FR),
Jump Willy (HK)
Flickering Wall (NL)
News On Request (NO)
Sberbank (RU)
Channel One (RU)
Shell International Ltd. (UK)
Jack Morton Worldwide (UK).
Winners from the Middle East: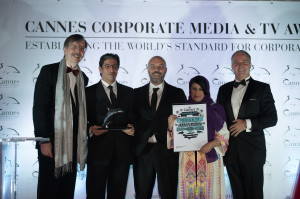 Alexander Kammel Festival Director, Ibrahim Al-Emadi from Commercial Bank of Qatar, Kirby Kearns from Resolution Films, Shaikha Al-Haidose from Commercial Bank of Qatar, Simon Ferguson from Resolution Films.
Company: Cleveland Clinic Abu Dhabi (Producer: Mubadala)
Title: On The Shoulders of Giants
Trophy: Silver Dolphin
Company: May events (Client: Emirates Red Crescent)
Title: To the End of the Earth
Trophy: Black Dolphin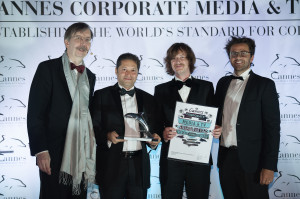 Alexander Kammel Festival Director, Jack Saba from SASOL Qatar, Justin Kramer (CCO, The Film House) and Omar Khalifa (Director of Production, The Film House).
Company: The Film House (Client: British Council Qatar)
Title: Definitely Able Voices
Trophy: Silver Dolphin
Company: The Film House (Client: The Anvil Rooms QLG.)
Title: The Master Craftsman – Anvil Rooms
Trophy: Silver Dolphin
Company: Resolution Films (Client: Commercial Bank of Qatar)
Title: Commercial Bank of Qatar – 40 Years of Innovation & Prosperity
Trophy: Silver Dolphin
Company: Resolution Films (Client: Hamad Medical Corporation)
Title: A Noble Profession
Trophy: Silver Dolphin