Media agency PHD, part of OMG, hosted the 10th edition of Brainscape, its annual thought-leadership event Wednesday, October 30.
This year, the conference focused on the notion of 'challenger', questioning the conventional norms and approaches brands usually take and motivating them to adopt a new mindset. A more challenging mindset.
Meaning to convey in a very clear-cut way this idea, the conference's stage was designed in the shape of a T with a plaster sculpture in the shape of a fist right in the center. 'Nuff said.
The event began with a keynote address from Luca Allam, managing director of PHD UAE, who walked the audience through the history of Brainscape over the past nine years.
Then followed a line-up of speakers who each addressed challenges in very personal ways.
Malcom Devoy
Chief strategy officer, PHD Worldwide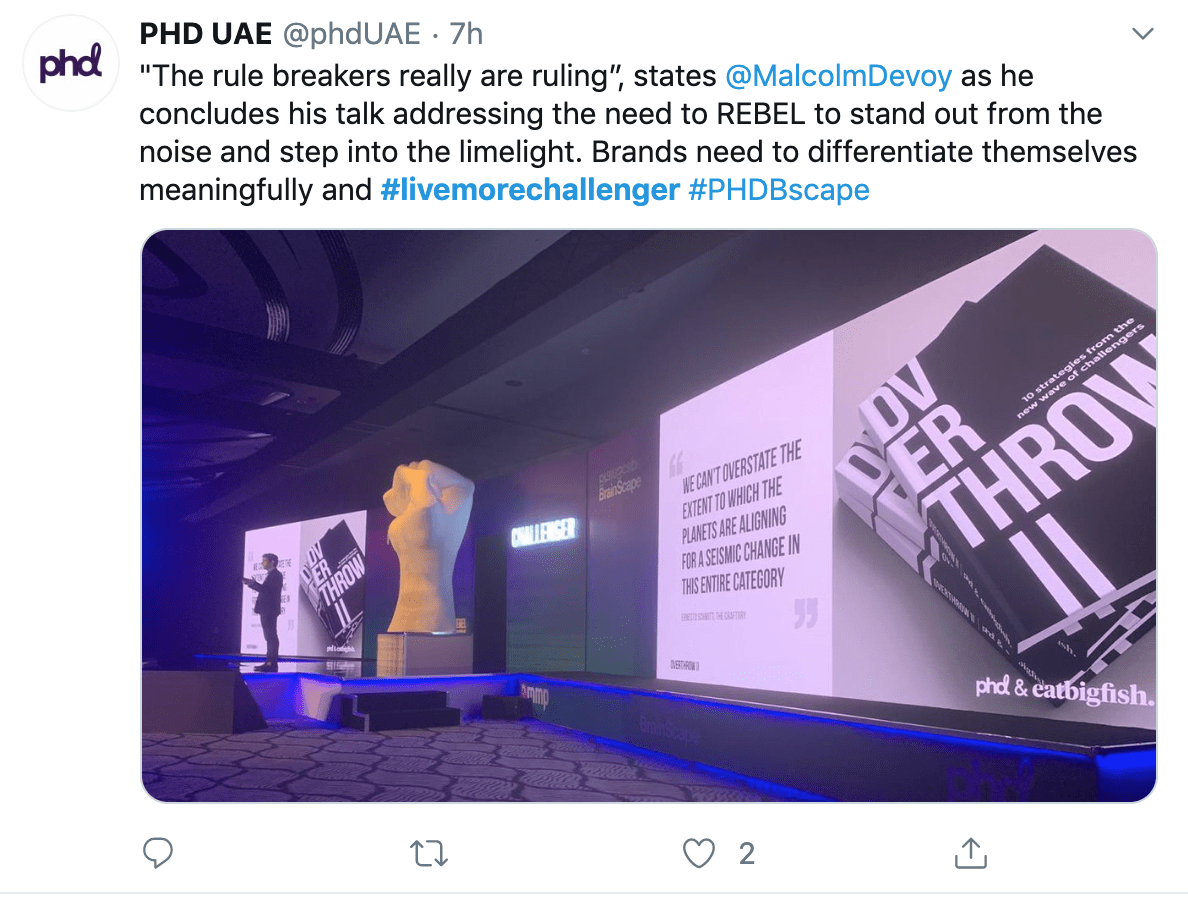 Effectiveness is the extent to which you've achieved your goal. Efficiency is a measure of the effort needed to reach that goal.
The media industry has used these terms almost interchangeably.
You need both but if you don't focus on effectiveness first, then you're in trouble.
Efficiency is easy to measure but it needs to be in the service of effectiveness.
Be likable, be memorable and excite emotions – the three fundamental drivers of sales effectiveness.
Digital transformation is not the same as digital media.
Focus on getting a share of distinctiveness, not share of voice.
The rule-breakers really are ruling.
Ronny Gottschlich
Former CEO of Lidl and founder of Heunadel Retail Advisory
As a disruptor, sometimes you don't invent the game yourself but you just copy.
You need to keep in mind that even while disrupting, everything depends on facts and figures. Scrutiny depends on the figures.
Be prepared to throw everything, but also be prepared to keep everything.
Have a low-ego organization.
Have a constant change DNA.
Learn fast and don't make [the same] mistake twice.
Being a dramatic disruptor is more than one brilliant idea. It is a mindset of constant change and permanent steps for improving your business growth.
Muatasm Aulaqi
Co-founder of Nomu Hub
Establishing a business is tough but sustaining that business is even harder.
Have a strong message.
Be as purpose-driven as you're profitability-driven.
Build a strong community.
Have a purpose and influence others with that purpose.
Natasha Ritz
Former brand lead of Lush, head of comms of Parcelpoint and co-founder of ARNA
Create a sense of belonging in the world of branding.
Push through fear.
Be unapologetic in your cause.
Build brand consistency and authenticity from the outset.
Create moments of emotional impact with your audience.
Make mistakes and learn from them.
Go back to your roots.
Don't just accept the status quo; recreate.
Dawn Metcalfe
Executive coach, facilitator, trainer and author
If you don't have challenging individuals in your organization, you don't end up with challenging organizations or brands.
If you want to encourage a challenger mindset in your organization, where people feel safe enough to speak up, you need trust.
We are fabulous lawyers for ourselves and extraordinary judges for others.
We talk about truth as we perceive them through our different filters of culture, upbringing, etc.
We end up talking about our perception of the truth, which is also known as 'potential.'
Alessandro Lanteri     
Hult International Business School professor, TED-X keynote speaker,  advisor and author 
Challenge assumptions.
Identify purpose.
Make the right decision when it comes to organization culture, style, the kind of talent you hire.
If you really are a challenger, take the first step and challenge yourself!