In-Depth
"It's not a lipstick and high heels story," says Ford on marketing to women in Saudi
When women (finally) took to the streets on June 24, the world – and automotive brands – marked a special moment in history.
This moment is not only a positive step for equality in the Kingdom, but also one for the economy with it estimated to add as much as $90 billion to Saudi's economic output by 2030, according to Bloomberg.
The passenger car market alone is expected to reach $29.3 billion by 2022, according to TechSci Research, as three million women get behind the wheel by 2020, according to a PwC report.
The opportunity this spells for automotive brands is obvious with many, if not all, of them already planning and executing their marketing and advertising strategies.
Ford, for which Saudi is amongst the biggest markets in the world, is one such brand. When the Royal Decree was announced last year, it was among the first to congratulate Saudi women through Twitter. It was also among the first to release its campaign "With You in Front" on June 14 – 10 days ahead of the historic date.
We spoke to Crystal Worthem, marketing director, Ford Middle East & Africa, to learn more about the brand's strategy in the Kingdom.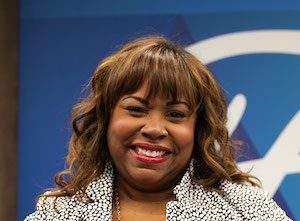 Currently, Ford is among the top five automotive brands in the Kingdom, says Worthem, although she was unable to comment on the specific numbers. However, a PwC reports puts Ford's market share at five percent behind that of Toyota (35 percent), Hyundai (25 percent), and KIA and Nissan (six percent each).
Ford's aim is to create a holistic marketing strategy around what is an ongoing conversation in Saudi. And so after its congratulatory message last year, Worthem says, we asked ourselves, "How do we create a platform with a variety of different pieces – whether that's educational, emotional, or retail? What is the kind of overarching message that we want for the brand to relay to Saudi women?"
The answers to those questions were worked on by Ford's agency GTB and other WPP agencies based in Saudi including women at senior levels.
[Tweet "Marketing to #Saudi women? "It's not a lipstick and high heel story," cautions @FordMiddleEast marketing director"]
The thin line between insight and stereotype
Ford is cognizant of the cultural understanding and nuance required to market to women in the Kingdom who, for the first time, will be in the driving seat – unlike Burger King that had its agency in Germany work on a campaign that's giving away a free 'Whopp Her' – instead of its usual Whopper – to women drivers in Saudi.
However, it's important not to mistake stereotype for insight in the name of cultural understanding. For instance, "It's mandatory to make sure the car is going to come with attributes pleasing women," said Marwan Haidamous, Renault Middle East's managing director in a statement, because "what women are looking for in a car is very different [than men]."
But, as Worthem points out, "It's not like women aren't driving around the world and we know that they're not driving pink cars, right?"
Similarly, there has been research suggesting that female drivers might be more comfortable in smaller cars like sedans, but "we have not seen a ton of that," says Worthem.
"There will be some things unique to Saudi Arabia but what we know about women around the world is that it's not a lipstick and high heels story," she adds.
Insight to action
Although Ford has conducted its own proprietary and syndicated research, the best insights were gleaned during the team's March visit to the Kingdom for its Driving Skills for Life program, says Worthem.
One such insight is that when it comes to making a purchase decision in the showroom, women trust the experience level of the consultant. That has manifested into Ford training its female staff, such as those working in call centers, to become sales consultants.
Ahead of the ban being lifted, Ford also invited two Saudi female journalists, Layan Damanhouri from English-daily Saudi Gazette and Nawal Turki AlJabr, head of the Ladies' Section at Al Riyadh Arabic, to its headquarters in Dubai. Damanhouri and AlJabr spent two days learning automotive skills with Ford's Product Development and Engineering teams and its storytelling team at the Content Factory.
"We're looking at a complete approach," says Worthem. "We will do everything from building brand awareness and trust in the brand all the way to specific retail offers."
Social media, and digital at large, is a big chunk of this approach. As Worthem puts it, "We want to live where she lives and a lot of that is on social media."
Most of the budgets for communication around women driving have gone toward digital in the last few months with the exception of more traditional channels for retail offers during Ramadan and such.
Ford's digital media efforts consist of several different pieces including its website, which has been updated to serve as a "one-stop shop" of sorts, explains Worthem. Much of the content is education-based with a series of 13 videos including instructional videos under 'Ford's Driving Skills for Life for Her' program and those featuring auto influencer Hasan Kutbi, who covers topics such as economizing fuel, different types of engines and safety features.
Driving ahead
Going forward, "We will continue in the education space through the 'Driving Skills for Life' program, which will continue to evolve as she [the Saudi female driver] evolves," says Worthem.
On the retail side, Ford will look at having different offers that are not only sales related but also service and maintenance related.
The biggest piece of its strategy, however, is consumer experience – something the brand has started working on through the introduction of Family Showrooms. Its Riyadh showroom – with Al Jazirah Vehicles Agencies (AJVA) – upgraded the facility to add female sales consultants. The branch will arrange test drives and offer the option of a "collect-and-drop-off service" upon purchase. They will also roll out roadside assistance vehicles for women.
"We are going to take a lot of best practices and roll those out across the Kingdom to make sure we have really good customer experience," says Worthem. While customer experience is a priority for all customers, "there are some things we needed to tweak, which we will be rolling out over the year," she adds.