Events
Down Town Beirut Back to life in 2018
This year, New Year's Eve marked another success for Beirut. People from all over Lebanon gathered in Nejmeh Square to turn it into a bursting dance floor for a night. Beirut Celebrates 2018 was a delightful event held by the Municipality of Beirut under the guidance of Prime Minister Saad Hariri, and was successfully organized by its. Events.
Tens of thousands were present at Nejmeh Square between 6 PM and 2 AM to party in DownTown Beirut and celebrate its return to life. The celebration came in harmony with the vision of Mr. Rafic Hariri and his progressive plans.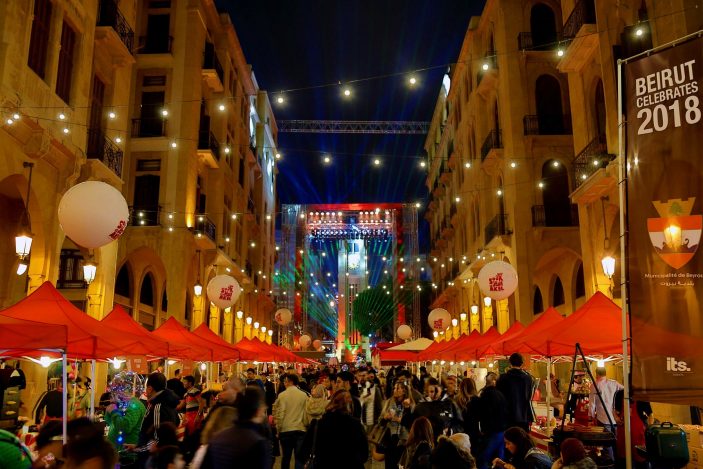 With the project having been launched only 5 days before, the teams completed their work and preparations hours before the festivities began, opening to the beats of DJ Maximus with Souk el Akel, accompanied by cartoon characters who wandered among the audience. At 8 PM, artists Naji El Osta, Ayman Zbib, Guy Manoukian, Said Mourad, Sammy Clark, Melissa and Joe Ashkar took then the stage one after another, performing to a lively crowd and hectic atmosphere, accompanied by astonishing artistic and visual performances.
After being present at the organization of the event, Prime Minister Saad Hariri surprised the crowd when he joined them before midnight, chanting the national anthem and sharing precious moments of joy amid welcoming cheers. The countdown to the end of the year kicked off, and the fireworks ignited the skies of Beirut announcing the revival of the bursting capital.
With Beirut Celebrates 2018, Lebanon stepped into the new year with a magnificent event that penetrated local borders to be featured on international media and global portals, ranking it among the greatest celebrations in the world.
With this grand celebration, Beirut reaffirms its place on the map and its leadership position in organizing upscale events with unparalleled success.