Research
1.3 Million Podcast Listeners In The UAE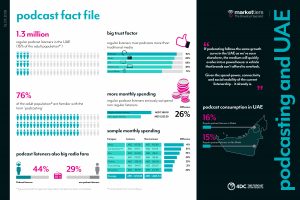 New statistics released by markettiers MENA, a broadcast specialist,  reveals around 1.3 million regular podcast listeners in the UAE alone.
The report was conducted by Opinion Matters, an insight agency. There has been around 2,006 respondents. Participants aged 16+ in the UAE between. The report looked at other markets -primarily the USA – to understand, predict and speculate in comparison to the UAE market.
The company said in a statement that around 16 percent of the adult population in the UAE is tuning into podcasts at least once a week.
The results show that around 92 percent of the regular podcast listeners trust the medium more than traditional media. "Podcast listeners' trust slightly drops to 89 percent for radio and 86 percent for TV," said the statement.
Cheryl King, the Managing Director of markettiers MENA said in the statement that "the trust that podcast listeners place in the content they are listening to, represents a huge opportunity that brands shouldn't ignore."
"Although the podcast scene in the region is still in its relative infancy, it is clear that it is primed to take off, and forward-thinking brands can get ahead of the curve and capitalize on the appetite for this medium which is undergoing a renaissance like we've never seen before," King added.