Ramadan best practices for automotive brands
The automotive industry occupies one of the most competitive spaces on social media today. From global to local campaigns, auto brands need to set themselves apart, gain massive reach, and measure their social performance against their competition. This is especially true during special sales events and Ramadan. Socialbakers analyzed the 20 biggest Facebook pages of auto brands in the UAE and KSA during Ramadan 2016 to discover the best social marketing techniques to help drive future revenue.
Key takeaways
An average page from the automotive industry promoted 31% of content published during Ramadan 2016
Despite a 30% decrease in share of promoted posts compared with the previous year, total interactions in automotive industry grew by 25%
None of the brands included in this analysis promoted 100% of content published during Ramadan 2016
There was a 21% decrease in total number of posts published by an average auto brand during Ramadan 2016 compared with the previous year
Average share of videos nearly doubled during Ramadan 2016 in comparison with the previous year
Ramadan 2016 benchmarks on Facebook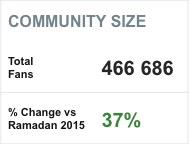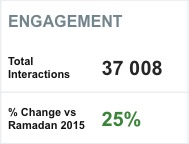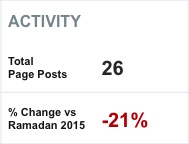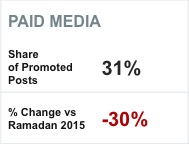 Efficient paid strategy drives engagement
Interestingly, there was a 30% decrease in the share of Promoted Posts in the automotive industry in the UAE and KSA during Ramadan in 2016 compared to 2015.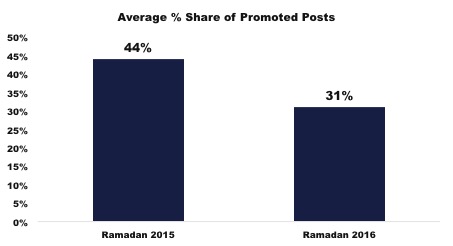 An average page promoted 44% of its content during Ramadan 2015, while in 2016 share of promoted posts decreased to 31%.
This decrease was caused by a change in the paid strategy of auto brands. There were no pages that promoted between 75 and 100% of their content, compared with 30% of auto brands following this strategy in 2015.
Moreover, 15% of auto brands promoted 100% of their posts in 2015, while in 2016 none of the pages included in the analysis went for a "paid-only" approach.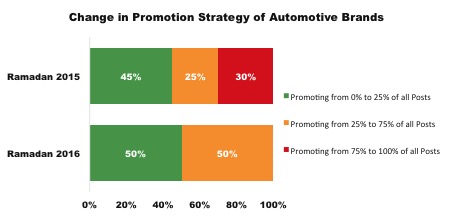 This change in the promotion strategy led to a 25% increase in Total Interactions in comparison with the previous year.
Paid-only strategy does not guarantee success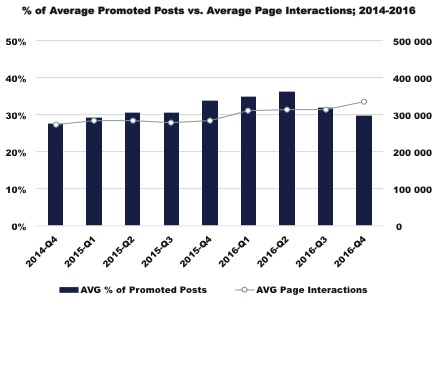 Socialbakers' global research conducted on 6,274 pages on Facebook found that brands keep promoting more content, however, their Total Interactions remain relatively flat.
Promoting 100% of content is a risky strategy, as it increases your chances of investing in under-performing posts, which can have serious consequences for your brand:
100% higher Cost per Click (CPC)
Nearly 20% higher impression cost (CPM)
7x less viral
4x more negative feedback*
Key takeaway for Ramadan 2017
Do not promote 100% of your posts. Evaluate organic performance of every piece of content first and only then invest in the best-performing posts to maximize Reach and Engagement.
Video is becoming a key part of social strategy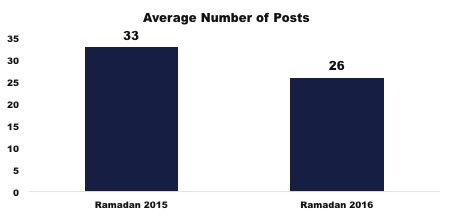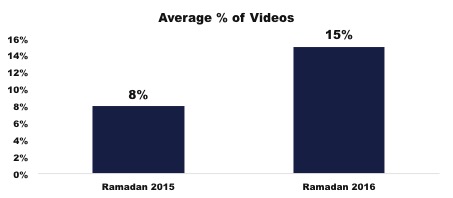 There was a 21% decrease in the total number of posts published. An average page included in this analysis published 26 posts during Ramadan 2016 – that's approximately six posts per week. This is slightly higher than the activity of global brands that tend to publish four Facebook posts per week on average. However, considering the overall trend of brands decreasing the volume of content published on Facebook, Socialbakers expects auto brands to publish around 3-5 posts per week.
"I see video as a mega trend, same order as mobile," said Facebook CEO Mark Zuckerberg during a Q4 2016 earnings call. This is a clear indicator that video content will continue to play a bigger role for the platform in the upcoming years. Diversification of Facebook video formats (Facebook Live, 360 videos, VR) will further amplify this trend.
Auto brands in the UAE and KSA are clearly taking this into consideration, as the average share of video posts nearly doubled during Ramadan 2016 in comparison with 2015. In fact, 15% of all posts published by an average page included in the analysis were represented by videos.
Top 5 auto brands on Facebook by total interactions in Ramadan 2016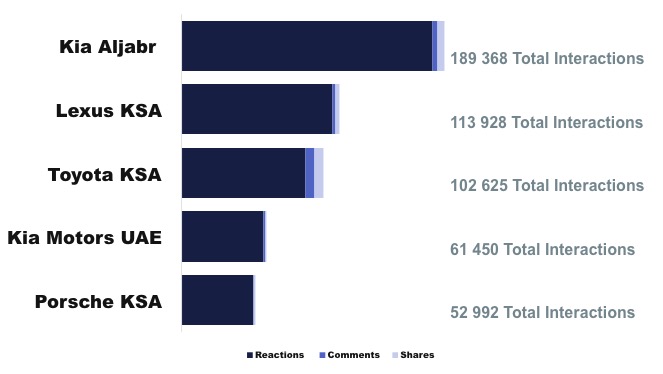 Learning from the leaders
KIA ALJABR

KIA Aljabr was the most engaging page in the automotive industry during Ramadan 2016, driving engagement with its community through a high volume of published content i.e. two posts per day on average. This was supported strongly by paid media support; 54% of posts were promoted and drove 98% of Total Interactions.
Content-wise, KIA Aljabr focused on simple, yet attractive visuals of cars with links leading to the official website, where fans could get more information about each model
On top of that, KIA leveraged its status of an official partner of football tournament Euro 2016, using content from its global campaign #HeartOfTheGame (this video received over 2 million views) and special holiday offers to generate buzz around the brand and drive sales during Ramadan 2016.
LEXUS KSA

Lexus KSA's content strategy revolved around high-quality visuals (100% of posts were photos) of the brand's cars supported with concise taglines and hashtags such as #lifestyle & #luxury.
The brand published 37 posts during Ramadan 2016 with an activity peak in the last two weeks of June when Lexus was publishing up to four photos per day.
The key to Lexus' success lies in a perfectly optimized paid strategy – precisely identifying posts that should be promoted, the brand invested in 40% of content during Ramadan and gained 78% of Total Interactions from it.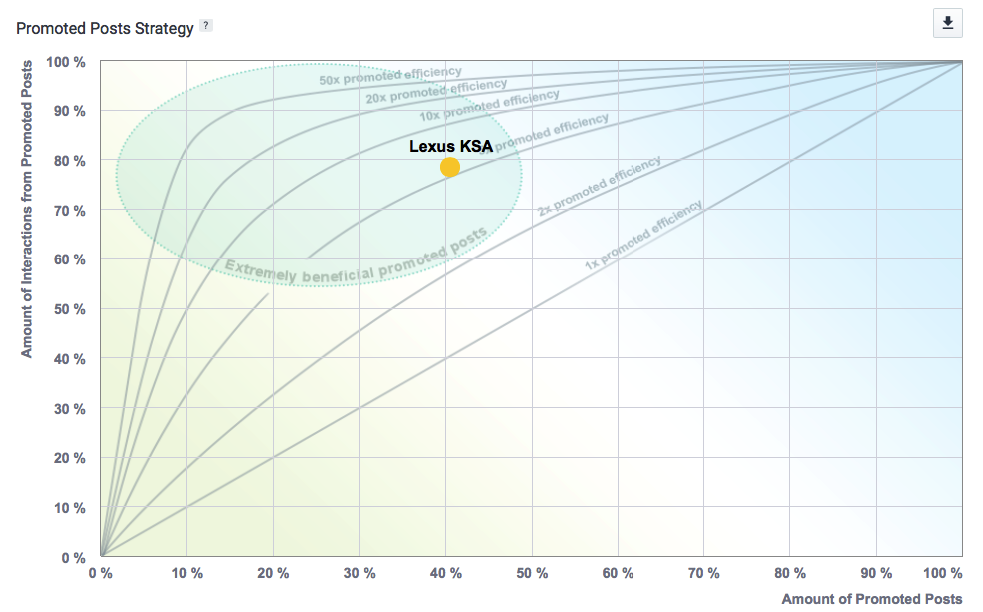 TOYOTA KSA

Toyota KSA was very active during Ramadan 2016 with two posts published per day on average, heavily relying on videos (which represented 35% of the brand's posts) to diversify content and maintain a high level of engagement with its community.
Videos were the main driver of success for the brand, generating over 3 million views on Facebook and making Toyota the most shared page (with 6,886 Shares) during Ramadan 2016 among brands included in this analysis
The best-performing videos in terms of Total Interactions were not directly connected with Toyota cars, but with traditional values, the brand decided to celebrate together with its community during Ramadan.
Socialbakers' recommendations for Ramadan 2017
Do not promote every post during Ramadan 2017. Evaluate organic performance of every piece of content first and only then invest in the best-performing posts to maximize Reach and Engagement
Video should be a vital part of your content strategy on Facebook – think about how you can leverage various formats (Native videos, Live videos, 360 videos) to drive Engagement with your community
Need inspiration for video content? Check out Socialbakers' Facebook Native Video Trends report for the automotive industry in the Middle East
Competitive analysis is crucial for your success during Ramadan – look into the strategy of your competitors (how active they are; what is their share of promoted posts; what type of content generates the best results for them, etc.) to optimize your own performance