Research
YouGov research reveals Saudi consumers' perception of Volkswagen
According to YouGov's most recent data, the consumer impression of Volkswagen has sunk by 50 percent in Saudi Arabia with a subsequent negative impact on Audi, following recent reports of a fuel emission cover-up.
BrandIndex, YouGov's daily brand tracker, assesses consumer brand impression by asking residents daily: "Which of the following brands do you have a generally positive/negative feeling about?"
According to BrandIndex data, the Volkswagen impression demise started in the kingdom shortly after reports of the scandal began to emerge on the world stage on September 18. Saudi consumers showed negative feelings towards the brand from September 22, when its impression score tumbled from 18.1 to just 9.4 on September 29, 2015 – its lowest impression score in six months.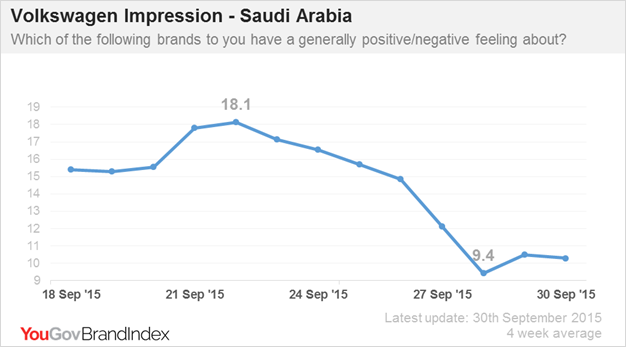 Interestingly, the negative impression has extended to Audi – owned by Volkswagen – as well. So far a favorite, Audi's brand impression spiraled down from 35.4 on September 21 to 29.4 on September 30, 2015.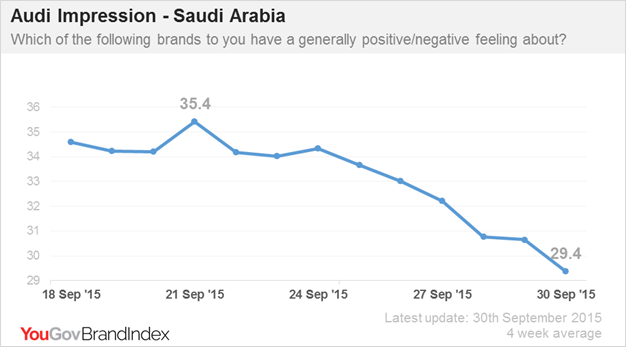 Over the same period, Volkswagen's Word of Mouth (WOM) Exposure score increased by almost 100 percent, illustrating the viral impact the crisis is having in the Kingdom. According to BrandIndex, WOM increased from 6.1 on September 20to 11.9 on September 28, 2015. WOM is assessed by asking respondents, "In the past two weeks, which brands have you talked about with friends or family?"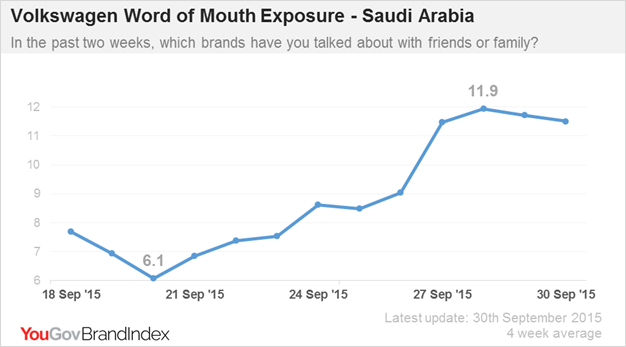 YouGov's UAE managing director, Kailash Nagdev says in a press statement, "Saudi Arabia is a key market for Volkswagen and even though the current scandal doesn't yet impact their cars sold in the region, the ripple effect of the negative publicity is clearly reflected in the significant decline of its brand impression. That, together with an overall increase in WOM exposure and the subsequent dent in Audi's brand impression score over the same period, demonstrates how damaging the revelation could be – not only for Volkswagen but [for] its brand portfolio in Saudi Arabia [as well]."