Research
2016 online ad spends and trends
OOXmonitor's report recaps the past year's numbers for the UAE, KSA and Kuwait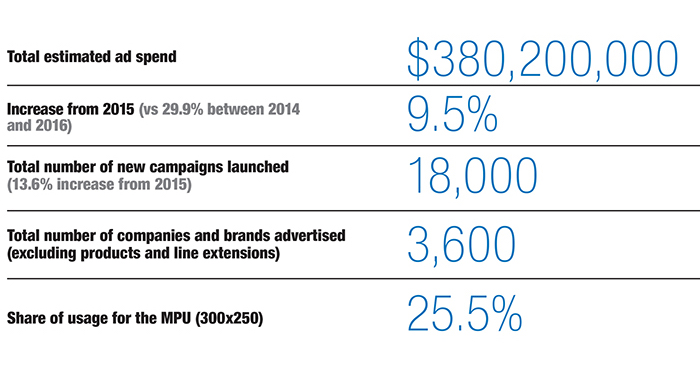 2016 has been the best year on record for online advertising in the United Arab Emirates, Saudi Arabia and Kuwait markets combined, despite the disruptions that have marked the advertising ecosystem in the GCC. Online advertising has grown by a reasonable ten percent in the past year – versus an almost 19 percent growth between 2014 and 2015 – despite the challenging economic environment. However, according to OOXmonitor, this growth has been relatively the softest on record.
Top 5 brands by SOE
Procter & Gamble has maintained its online ad spend supremacy for the fourth year in a row, while General Motors held the top position previously back in 2012. Four out of five players have maintained their place in the Top 5 chart, namely, P&G, General Motors, Nestlé and Unilever. A new entrant, Ford Motor Company, has taken the third place, while Reckitt Benckiser, which held the fifth position last year, dropped out. By further analyzing the Top 50 brands that represent more than 40 percent of the total online ad spend, OOXmonitor notes a continued erosion of local and regional advertisers in favor of international brands, which dominated up to 75 percent of the market share in 2016 versus 73 percent in 2015. There has been a significant regression for local and regional advertisers, who held 44 percent of the market share in 2010.
Top 5 categories by SOE
The Real Estate & Properties, Automotive, and Health & Beauty sectors have maintained their presence in the chart with some variations in positions. Interestingly, the Real Estate & Property sector has grown by 28 percent in 2016, claiming the top place and replacing Automotive, which has grown slightly (four percent) despite the stress that it ­endured in 2016.
In the fourth and fifth positions, Restaurants and Foods & Snacks have overtaken last year's sectors of Telecom Services and Banking, indicating an interesting change in dynamics, since Telecoms and Banking used to dominate the online ad spend in the GCC until recently.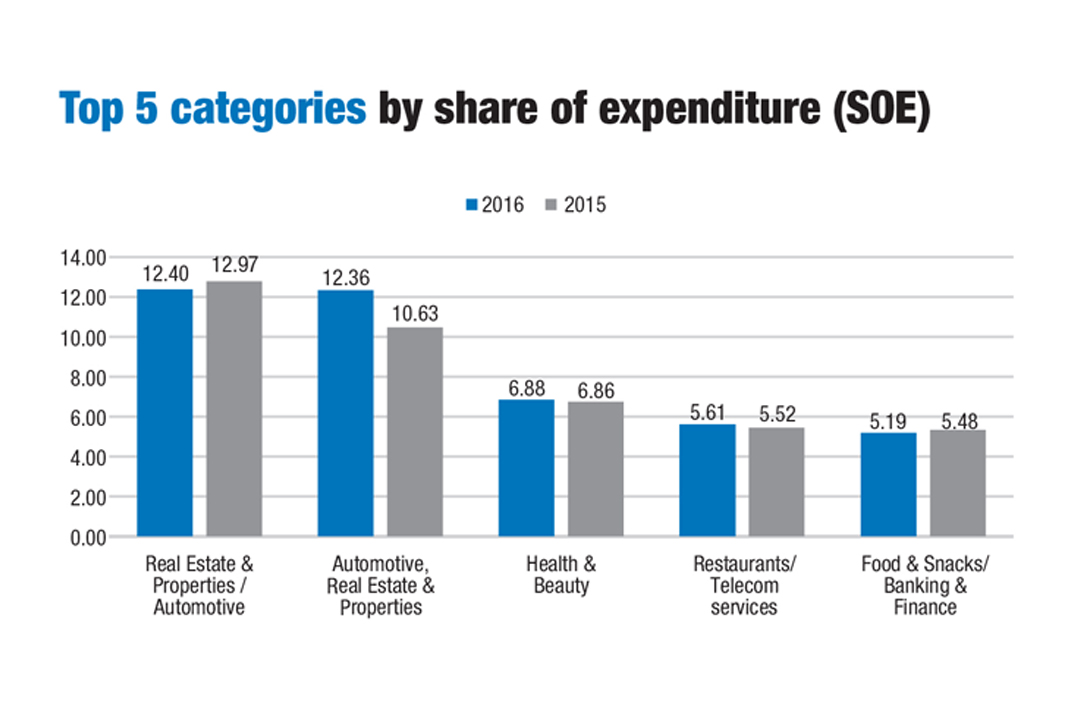 Top 5 ad formats
The five most popular ad formats have remained the same as last year, with minor variations in campaign usages. It seems that the market has picked its winning formats following years of trial and error. The MPU has maintained its number one position uncontested since 2009, to the detriment of the then popular space banner 220×550. Pre-roll and other video formats have gained ground in 2016 thanks to the inflow of advertising monies from traditional media into online video. Lastly, the sponsorship format has gained ground slightly, which, according to OOXmonitor, can be attributed to the continued investments by advertisers that are interested in associating their brands with 'premium' content and 'safe environments', as opposed to pure play 'performance'.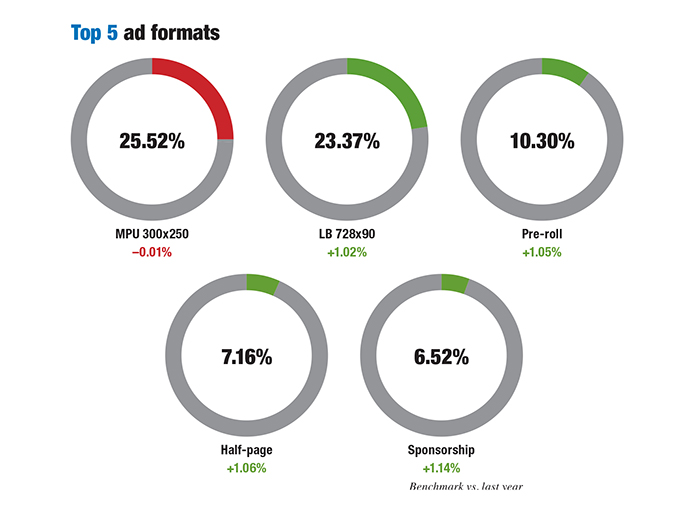 Seasonality of advertising
Over the past three years, Q4 has consistently captured the highest share of online ad spend in comparison with the rest of the year, followed by Q2, Q3 and Q1. In 2016, surprisingly, Q4 almost equaled Q4 2015, indicating that the year's growth in ad spend has more importantly served Q1 and Q3. The third quarter is the most pertinent of all, as it coincides with the month of Ramadan, away from January where, traditionally, the previous year's credits tend to be invested, according to the report.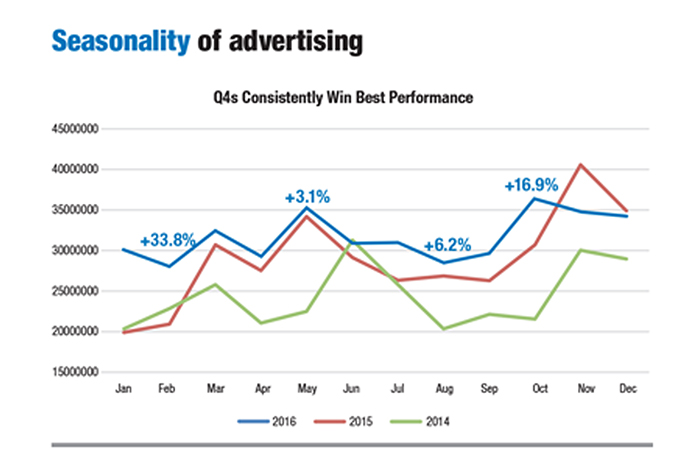 October: Most active month
May: Second most active
February: Least active month
August: Second least active
2017 emerging trends and outlook
The digitization of the advertising economy in the GCC is expected to continue relentlessly throughout 2017 and beyond. Last year has seen its fair share of disruption, with print advertising being the most visible casualty, in addition to the rise of Google and Facebook in the Middle East, and the ­proliferation of small, start-up-style independent digital agencies. The growth in digital ad investments is expected to continue unabated, but with budgets quickly changing pockets within the same, fast-growing digital supply mass.
Video advertising is expected to maintain its growth, fueled by the outgoing migration from linear TV to digital. Display advertising, desktop and mobile-targeted advertising will continue to carve a share of the increase, with more value ad dollars invested in a multitude of specialty premium websites, while GDN and other ad technology will receive the performance intended digital dollars.
Lastly, OOXmonitor suggests keeping an eye on two conversations: (1) the demand by agencies for more transparency and third-party auditing related to in-house performance metrics; and (2) the demand by advertisers for ad tech publishers to demonstrate a clearer performance path linked to sales revenues rather than clicks.
About OOXmonitor
OOXmonitor is a multi-market competitive online advertising monitoring service in the MENA region since 2008. OOXmonitor currently serves the UAE, Saudi, Kuwait and Egypt markets with data that goes back to 2007.
Notes:
– The ad spends are net estimates in USD and account for an average error margin of 20 percent in both directions.
– The OOXmonitor database covers premium websites, the Google Display Network and YouTube.
– OOXmonitor covers display, video, sponsorship and road-block online advertising activities targeted to browsers on desktop/laptop devices. Mobile, Search, Native ad units are not covered in this report.
– The monitoring methodology is based on a daily sample of page views across all monitored websites and allows for an error margin of five percent in campaign reporting.
– The above report is a preview of the OOXmonitor database. Current OOXmonitor subscribers have access to more in-depth data and reporting.
– Full or partial reproduction of this report without prior written approval from OOX is strictly forbidden, be it in digital or any other media type or format. The terms of use described at www.ooxmonitor.com/terms-use shall apply to this report.
– This report is licensed to Mediaquest Corp. to be exclusively published in Communicate magazine and its website in the February 2017 edition.
– If you are not currently subscribed to OOXmonitor and would like to become a subscriber, please email [email protected] or call +971 4 5511OOX (669).
– OOX is the trade name of Out-n-out Online Xperts FZ-LLC, the company. OOXmonitor is the name of the flagship online advertising monitoring service by OOX.