Research
Arab Youth Depend Mainly On Social Media
Youth in the Arab World are more trusting of social media than traditional media, revealed the Arab Youth Report 2019. The 11th version of the report that is published by Asda'a Burson- Martseller in collaboration with PSB a research intelligence firm, concludes 10 key findings within the Arab World.
The research findings are based on 3,300 face to face interviews said the firm. These interviews took place between January 6th and January 29th, 2019 in 15 Arab countries divided into GCC, North Africa and the Levant, with a 50:50 male female split.
Among Arab youth, social media is a more trustworthy source than traditional media. It has become the dominant source for news among Arab youth, 80 per cent said they get their news from social media in 2019 compared to 25 per cent in 2018. Meanwhile 61 per cent get their news from online news portals compared to 40 per cent in 2018 which makes online news sources now on par with television.
The report also concluded that there has been an increase among young Arabs compared to last year in e-commerce According to the report, youth are driving the region's e-commerce boom. Research shows that they prefer to pay by card rather than cash when shopping online.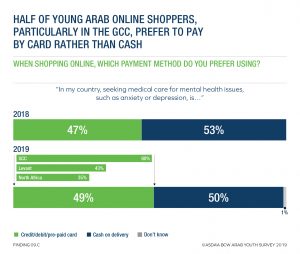 The 2019 Survey also  reveals eight other key findings including their attitude towards regional conflicts, mental health, and drug use. Nonetheless, Young Arabs have said that they expect their governments to deliver on the economic matters, including finding them jobs. The most prominent has been the role of religion in the Middle East, the economic concerns within the region and the unhappiness around the quality of education within their countries.
.