Opinion
It's time for brands to reclaim their voice
By Rana El Alami, senior strategy manager, Havas Media Dubai
Given the current market reality, one fact remains true: digital innovations are revolutionizing the consumer decision journey and will continue to do so. Today, we are consuming, creating and purchasing content around the clock; primarily through one device that is now an extension of ourselves. According to a 2017 global survey by B2X Smartphone, consumers regularly feel frustrated (27 percent), lost (26 percent) stressed (19 percent) and sad (16 percent) without their smartphones.
Brands that are not preemptive to these changes will struggle to survive. This upsurge in connectivity is simultaneously correlated to an increase in well-informed consumers. Higher accessibility to information means consumers are savvier, more cynical and, unfortunately, not as easy to convince. Twenty years ago, consumers were forced to go through the 'test-and-trial' period, whereas now, they have all the information they need, right at their fingertips.
Moreover, brand promiscuity is pretty high: As of today, 74 percent of brands could disappear and consumers wouldn't care (Havas Meaningful Brands Study 2016). Digital and social platforms have stimulated brand promiscuity, as consumers are constantly exposed to and lured by various options and experiences (according to the IE School of Human Sciences and Technology, consumers are exposed to a massive 10,000 brand messages a day).
The impact of influential marketing over brand messaging has no doubt forced marketers to be more responsive, but the growing clutter does not distinguish influencer marketing from any old TV endorsement. The experience is no longer seamless, authentic and genuine. Reason to believe is now hindered as a result of this noise leaving brand equity in a vulnerable state. In fact, in comparison to the TV broadcast era, brand communication is facing more threats today. The days when brands could communicate with a campaign mindset and a message designed for long-term brand building are gone. Real-time marketing and micro trends have forced brands to react and adapt faster than ever.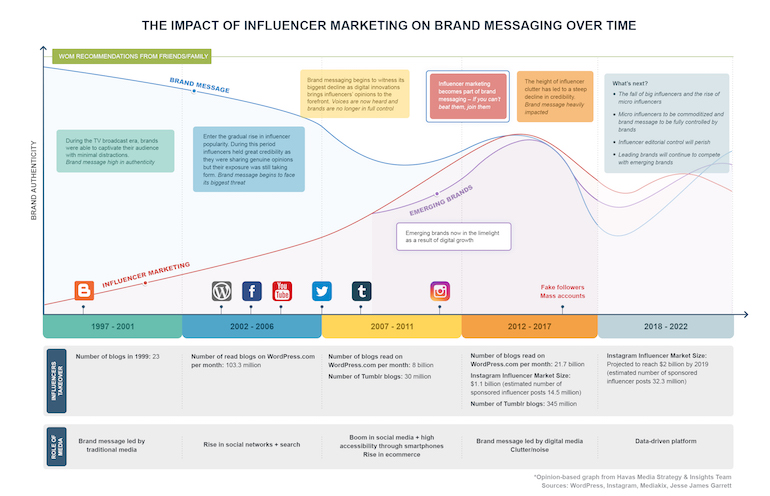 How will brands survive this irrepressible reality?
1. Using data to fuel influencer relevancy:
Succeeding with niche and wide scalability (micro influencers) by filtering based on expertise, novelty and trusted status

Looking beyond followers and instead generating higher engagement

Avoiding the clutter that is bound to impact authenticity and hinder brand equity

Reclaiming control over brand message
2. Producing powerful content strategies:
Driven by solid business objectives

Target-centric and meaningful as depending solely on generating hype is not sustainable

Evolving with new tech and innovation trends

Measurable (benchmarking against KPIs) and optimizable (isolating different elements to understand what's not working)
3. Amplifying positive WOM:
The one medium that is unchanging: Across time, recommendations from friends/family have remained consistent in their level of credibility. Brands that thrive on amplifying positive WOM will elevate themselves from the clutter
4. Recognizing a widening competitive landscape:
With the accelerated growth of emerging brands, higher exposure through digital and a well-informed consumer, multinationals are now competing with brands that could be a fraction of their size

Smaller in size but still agile: Moreover, emerging brands and start-ups have an advantage over multinationals due to higher flexibility. Emerging brands with less rigid regulations have the ability to be more responsive and adaptive to change