Mareva Koulamallah
Head of Marketing and Communications Middle East & Africa at Acronis
Despite the struggle, some media in the region have been maintaining if not growing their readership during the pandemic by using new channels of communication; the previous investments from advertising revenues and the emphasis on creative digital content might have also helped them in remaining relevant.
On the other end, as information has become more easily accessible, from various sources, sometimes the origins can be questionable. Growing trends such as cyber protection and social media are to be watched, as new writers, some self-proclaimed, have emerged.
Unfortunately, many of the editorial teams, like in other industries and countries, had to downsize because of the initial impact from COVID-19.
Thanks to an obvious drive to continue to provide the region with updates and because of how the GCC countries have handled the pandemic, media have continued to operate to the best of their ability. Traditional outlets and printed press in general still have managed to maintain a certain circulation and credibility while their digital versions have seen a substantial rise in traffic.
The pandemic caused massive disruption to the economies of most countries, and the global transition to remote work did not help. Technology played a key role in that transition but also in the health response.
Foreseeing what is to come, I believe that we need to be realistic but we can only remain optimistic as well. When it comes to media, here in the GCC, no doubts they will continue to re-invent themselves as always, and grow with the technological advancements. It is also important to note that the most interesting development will probably be around the growing presence of artificial intelligence. It will become more and more challenging, and interesting, to try to keep data safe and differentiate between news that is credible and news that is click bait.
Yogesh Khanchandani
Co-Founder & Chief Business Strategy Officer of PivotRoots
For years now, marketing trends have increasingly revolved around humanization of communication, addressing real issues and tailoring content to personally connect with individuals. Post-COVID, in this digitally accelerated era, and after the year we all went through, one-on-one personalized marketing communication is a no-brainer ingredient to successful marketing.
Personalization has changed marketing from the bottom up, improving the customer experience, and, in turn, making businesses more profitable. With this must-have marketing requirement today, all digital technologies – Facebook, Google, Snapchat, etc. are all prioritizing their focus on automated dynamic solutions that are technically advanced, with many more data points, more advertiser friendly and less resource heavy.
Lastly, with the explosion of e-commerce in 2020, the blueprint for digital bottom line accountable is much more well-defined.
E-commerce adoption rate to continue: 2020 was stepping stone for businesses to accelerate their digital transformation, be innovative with their own channels or look for an alternative solution outside. While looking for many short term solutions in the course of time, brands and business were able to identify long term solutions.
Temporary e-com templatized website has now become business driving channels. People are now buying everything online – water bottles, TV's, mobile, cars, homes, all of it.
Statistics prove - The region's top five e-commerce websites have seen annual growth of more than 50 percent since 2015, going from 3 million to 21 million users per month. Simultaneously, the total number of websites offering e-commerce has tripled from about 45 players in the UAE to more than 150 in the same period. Stats published by www.middle-east.kearney.com indicates the new benchmark/base for e-commerce. For 2021, I see the trend to continue where there will be investments from the brands on digital transformation, e-commerce and customer acquisition, especially for retail conglomerates.
Omnichannel has been the buzz word for a while now. With the rise in eCommerce focusing on user/customer acquisition being the primary focus, I foresee omnichannel or CMP's to be a priority for the brands.
This will be an important tech that will help in understanding the customers better, target them with preferred mode, delivering the personalized message as per their requirements. Apart from the value a customer gets, there is much more for the brands. There has been a rapid growth in the need for CMP as it's a vital piece of tech.
Conversational marketing: Conversational Marketing builds relationships with customers through the experience of a conversation.
It is a powerful tool that improves the user's experience and gets you more sales on your website by converting leads via dialogue-driven activities. Conversational marketing is developed by two key technologies: instant messaging platforms and chatbots.
Anishkaa Gehani
Founder and CEO, Yardstick Marketing Management
Globally the [media] industry was among the hardest hit with significant interruption caused during the COVID-19 crisis.
However, owing to the exemplary leadership of the UAE, the country has followed a unique model in its management of the crisis. The country recognized with being a global digital pioneer, was well prepared to deal with challenges and identify opportunities during this phase. As the new normal is here to stay, the media industry is now dynamically evolving. Technology is integral to the media industry. The digital environment accelerates the desire for information and connectivity.
Customers will connect more with people than with brands and hence Personal Branding will be key. We will be witnessing an increasing demand for Podcasts and video content. Consumers now have more choices on the types of content they want to consume and where they choose to consume the content.
Intelligent networking through various digital mediums such as webinars, e-meetings is also seeing an upward trend. Having a strong network of colleagues, counter-parts, peers and like-minded professionals to interact with can reap benefits in many different ways. Online networking resources like LinkedIn is gaining momentum as well.
Another evident trend in the media industry will be Artificial Intelligence and Big Data. As a concept, they have been around for a long time, it is only now that it is perceived as something tangible and beneficial.
Combined together these two trends are set to transform technology of the digital age producing an array of content for products and advertising opportunities.
Chirag Desai
Founder and CEO of Amaeya Media Network
2020 has taught individuals and companies that one- dimensional approaches are not enough in a world order where digital dominates and individuals have tremendous choice in terms of channels.
The most important development for the GCC media in 2021, therefore, will be diversification – the omni – building on top of your existing foundation channels but growing horizontally, not just vertically.
If your main content is on YouTube, explore pod- casts; if it is on podcasts and audio, look at platforms like Clubhouse or Twitter Spaces as an added way to engage with your audience and create more value. The ones that explore alternatives will succeed as users' attention and adoption of new platforms continue faster than ever before.
Saadi Alkoutali
Creative Director at Leo Burnett Riyadh
2020 taught us many great lessons that will blaze new trails in 2021:
More interconnected teams from different geographies because the new norm is staying.
More interconnected creativity, media, and data models will integrate into the work environment.
Openness and ability to learn and evolve will be crucial.
Andreas Frangeskides
Annalect Lead UAE
The biggest development in 2021 will be how our industry will capitalize on the third-party cookie deprecation. As digital marketing moves into a new, complex, yet desperately undefined cookie-less world, we will undoubtedly see a positive shift towards the advertisers and their first-party ecosystems.
This can only be a good thing for brands and their equity growth but will inevitably create a turf war with the publisher networks, whose somewhat prehistoric role as the purveyor of media experience will likely diminish drastically.
This metamorphosis will need to be bolstered adequately by the right tech solutions and consultancy. The growth of enterprise solutions and their connective relationship with the media agency will flourish, as will the relationship with the consumers, who will regain ultimate control over their data and their experiences for the better.
Will these changes radically affect how we measure the effect of our media initiatives? Yes, it will be the biggest challenge of all and a big Y2K moment for those who have not planned adequately.
The 'opt-in consumer' is only going to be a good thing for advertising. It will increase the overall quality of our practice and ensure a new consent-to-experience metric that guarantees an affirmative presence and the desire for our number one commodity (the consumer) to be truly at the heart of the marketing process.
Alex Malouf
Corporate Communications Director MEA at Schneider Electric
This year is all about finding creative solutions to problems. We've been through the shock of the pandemic and rushing to adapt. We've had enough time to adjust. We must and will get faster and better at marketing, both B2C and B2B, and we'll have to learn to be at ease experimenting more and being brave enough to fail and learn if something doesn't work out.
Jasmine O'Brien
Account Director at Definition
While there is an industry-wide expectation (or hope) that a gradual return to normality is on the horizon, the impact on advertising, marketing, media spend, and media consumption is likely to endure.
Just as the world around us has changed completely, so have the expectations and needs of consumers. A renewed focus on how best to answer these needs will be critical for any business looking to thrive in the new normal.
The road to recovery will largely depend on the ability of businesses and brands to pivot their offerings, campaigns, and spends to further strengthen engagement with existing and new customers, whilst creating new channels for steady streams of income in the face of this unprecedented global shift.
Momina Chaudhry
Communications Manager at Spread Communications
We believe three key areas will see development and transformation:
Social media marketing. As people across the globe spend more time indoors and on their laptops and phones, brands need to have a strong online presence, where they are able to introduce, attract, and influence their target audience. Compelling and engaging content is a vital component.
Digital ad spends. The change in consumer buying behavior has forced brands to invest in digital advertising. Print advertising is no longer a priority and is in fact expected to decline by 5%.
Storytelling. The way in which we engage in media relations has changed. Naturally, almost any story being pitched needs to have some sort of Covid-19 narrative. As comms experts, we need to be mindful and identify angles that inform and add value. Articles discussing how life is changing as a result of the pandemic are of more significance at the moment.
Donnacha Kinsella
Media Lead at Starcom, OneTeamFCA
In 2020, we saw a migration of marketers and their budgets to performance-focused digital media. Any semblance of brand building was stripped back to focus on short-term performance goals. Unfortunately, we can expect much of the same in 2021.
Recessions can create opportunities for agile, smart, strategic marketers even if you're working in a juggernaut archaic company. Focus on what is in your control:
Marketers in the GCC consistently invest heavily in performance media to drive users to a site or app that is horribly designed or not optimized to drive conversions. Audit your sites/apps; make sure your payment gateway works; and do not be afraid to pay a UX designer to take a look at the consumer journey. It is money well spent.
Secondly, the cookie-less future is coming sooner than people realize and companies that have a first-party data strategy will be in a healthier position than those who don't. Do you have a customer data platform (CDP)? How are you using your CRM data to deliver a more timely, relevant, and personalized experience? This takes time and significant investment, but in the long term, it helps you to understand your consumer better and when it comes to targeted performance, there is nothing cheaper and cleaner than activating your own data.
Injeel Moti
Managing Director at Catch Communications
While digital media will continue to dominate the landscape, there will definitely be a need to deliver higher quality, more purposeful content, with visual content taking precedence over the rest.
As media and marketing professionals adapt strategies to deliver results with smaller budgets, a significant growth in the media industry's use of analytics will be seen. Ensuring your brand is top- of-mind in the short term while strengthening core brand equity will be key, making trade-offs between levers to align with consumer receptivity. Better creatives will break through, engage, and persuade consumers and drive greater ROI for businesses.
Another development to look forward to, and one several brands are currently transitioning into, is an efficient omnichannel media presence, to influence consumers across the funnel. Brands must go beyond upper-funnel activities and use data to activate consumers across the full funnel on different social platforms. Two-way interactions and the ability to feedback immediately will also grow, along with mediums that allow for such interactions – as the introduction of applications like Clubhouse shows.
Richard Fitzgerald
CEO at Augustus Media
The signing of the Al-Ula agreement by all members of the GCC in January was the most significant development to happen to the media industry. Regional media organizations have had varying viewpoints since the 2007 Qatar crisis, but this agreement has the potential to create waves, to breathe new life into the media.
The FIFA World Cup 2022 in Qatar also has the potential to be a watershed moment for the region. The World Cup, more so than any other event, can lift spirits, unite, and create a positive impact on the economy. For the media, it's the single biggest event in the world. There still needs to be strong economic factors in place, but confidence is a key component in driving consumer spend.
A strong GCC can be the foundation for a strong Middle East and North Africa when it comes to media, and the consumer and advertising spending power that goes with it. The Arab region needs a united media sector to change the narrative by constructively accessing and challenging claims asserted towards this part of the world.
Vishal Badiani
Creative Strategy Lead MENA at Snapchat
Augmented reality (AR) has historically been seen as a technology, but as an increasing number of marketers and agencies get wise to the real value of the AR, we foresee its full adoption as a bona fide media channel in 2021. The pandemic has changed how we shop and accelerated the shift towards online selling. Forward-thinking brands have recognized the opportunities AR offers to short-circuit the purchase journey and move browsers to buyers – whether physically in- store or virtually on their phones. Retailers and retail brands have allowed customers to see virtual products in their own homes or even on their own feet. These experiences don't replace the in-store experience, but they add a massive dimension to the typical, current online web experience. They've helped brands stand out and drive real-world sales. It's not just fun and games anymore; it's driving the bottom line.
Mario Soufia
Head of Strategy at Digitas
The pandemic has created an irrefutable shift that has people spending a lot more time at home watching TV and competition heating up with new subscription VOD entrants, structured pricing, and free ad-supported VOD services.
With both TV stations and VOD platforms aggressively enhancing their programming, fragmentation of TV is bigger than ever, putting more pressure on identifying how people watch television.
Advertisers will need agency partners that understand data-driven audiences to truly determine when, how, and where their target population is consuming TV content. They will demand smarter and more transparent reporting that drives value beyond the usual measurement frameworks. Agencies will need to transform their narrative around TV, executing test-and- learn strategies to maximize reach and resonance across the right audiences.
On the other side of the coin, this fragmenta- tion also increases the importance of building loyalty and driving adoption with superior content and customer experience. Platforms will need to shift from advertising their programming to building long-term connected lifecycle plans that put audiences first. This new consumption shift coupled with the acceleration of digital transfor- mation puts brands, platforms, and agencies on notice to reintroduce their strategies.
Shihas Kizhisseri
CEO of Pixcom
According to 6Wresearch, the GCC digital signage market is forecast to grow at a CAGR of 12% by 2023.
The industry's future is bound to be characterized by a shift, from static billboards towards more interactive platforms such as easily deployable and attention-grabbing digital displays, for instance. As a sector that has seen its revenue increase by nearly 30% in recent years, DOOH is now proving to be the go-to solution for advertisers not only in the region but globally.
DOOH allows several visuals to be used in communication. This means that more catchy imagery can be used instead of words, giving a better impact at zero extra produc- tion cost. DOOH also enables advertisers to release digital marketing campaigns super fast as well as react to the competition within the shortest time possible. It also enables advertisers to target specific audiences with targeted adverts.
This new and exciting development means that advertisers can roll out multiple sites depending on target groups with relevant communication and minimal cost. It also means that DOOH advertisers can now receive data in real time and their ROI is measurable.
Melwyn Abraham
Digital PR Director at Matrix PR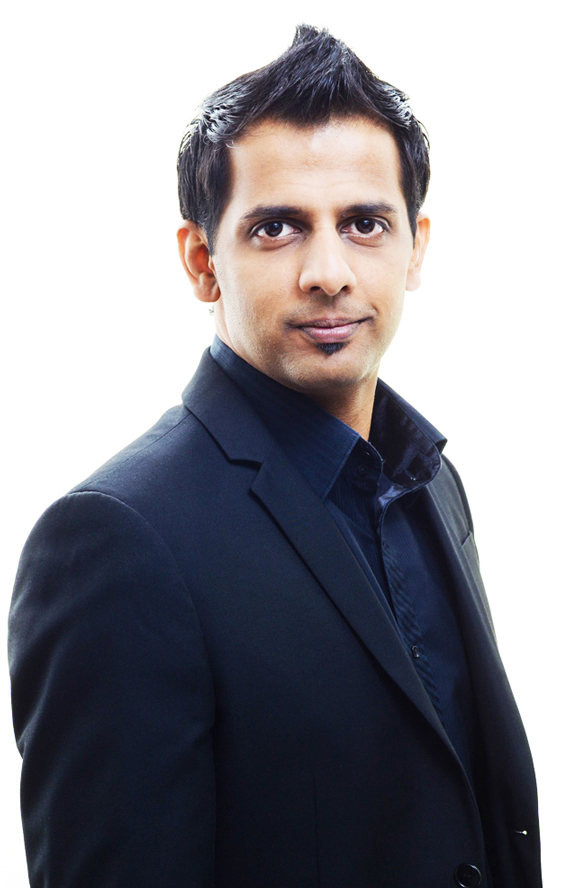 Synergizing remote working transition success, reinvented customer experience with the adoption of new data will probably be the winning formula for the GCC media industry in 2021.
As the crow flies, the shortest distance to success will be through personalization, digital acceleration, and increased flexibility.
Customer experience is at the forefront mostly because customers need to feel connected and are looking for catharsis. Platforms and brands will have to combine the human experience with the digital one to create a brand-new seamless experience that can engage and fulfil consumer needs. Data has been under scrutiny for the last few years and will continue to be as the application of new data will be crucial to success. From shopping to entertainment, there has been a massive move to digital with in-home entertainment brands such as Netflix doing particularly well.
Regional players like MBC Group's television ratings recorded a 13% rise in the third week of March 2020 compared to February, with average time spent per day on television also rising by 11% to 5.6 hours. These developments have largely been driven by the consumer's need for more. More flexibility. More video. More personalization. More connectivity. More privacy. More digital yet more human. Whoever masters the analysis of this new age data and channels them into engaging solutions with synergy will most certainly succeed.
This article was published in Communicate's Q1 edition. You can access the full magazine here.