Every month, Netizency identifies a group of Arabic and English keywords from different industries in the region, classifies them according to the volume of mentions, and analyzes the topics of conversation across all social and online media.
Between the 1st to 31st of October 2022, Electronics maintained dominance as the top discussed category online in the GCC followed by Entertainment. Health climbed to the third rank this month pushing Education down to the fourth place. Coming after are Finance, Malls and Retail, Automotive, and Telecommunication.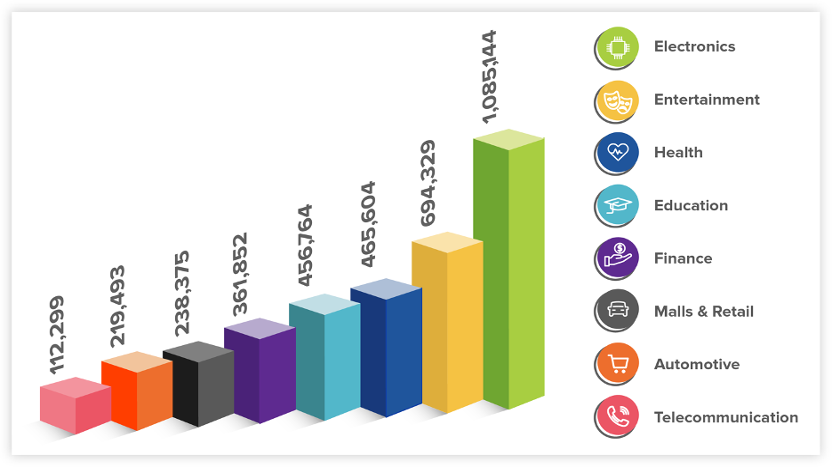 The internet buzzed with conversations in October, here's a rundown of just some of the highlights across the top three categories.
Top Themes
Electronics
The online conversation about Electronics consisted of tech heads arguing over the best devices, hottest gadgets, and their latest features. It was kind of challenging to keep up with all that's trending, but we still managed to get an earful anyway.
Apple was at the center of the tech world conversations, and its latest news drove a mixture of hype and hysteria from diehard fans in the GCC. The buzz around the all-new iPhone 14 was quickly superseded by rumors about iPhone 15 despite its release being a year away. Speculations have been plentiful including discussions about Apple's plan to give up on the Pro Max variant and rename it "Ultra", continue to use Qualcomm's 5G modem chips, and bring Dynamic Island to all iPhone 15 models. But the biggest shock to Apple and Android fans is that the forthcoming series will switch to USB-C charging and ditch the Lightning port to comply with the recent European Union's mandate. While reports about how negatively this might impact Apple were gaining momentum, many users in the GCC cheered the move from an ecological point of view. Also, wouldn't it be great to have just one charger for all your devices rather than fumbling with different wires or hoping your next device would have the same size port? And how good would it be to stop worrying about using your friend's charger?
Additionally, GITEX Global 2022 has sparked a flurry of spirited online conversations during the month, to the surprise of no one. We've seen coverage around the five-day exhibition coming nearly from all content sources ranging from tech blogs to mainstream news and social media. There were plenty of conversation themes happening online around the event that included coverage of the different MoUs signed between organizations to push futuristic initiatives and technical solutions, photos of VIPs visiting booths, guest speakers, and tech advocates being honored for their outstanding contributions in the field. All these were met with positive reactions from the GCC online community. The event concluded on a successful note, positioning Dubai as a disruptor in the technology and innovation industry.
If you're a fan of Lionel Messi, Argentina, and the idea that computers can foretell the future, you've come to read the right story. A supercomputer has used Artificial Intelligence to make its own prediction on who will win the 2022 World Cup — and as you might have guessed, it's Argentina and Messi. The forecast revealed that the final game will be between Argentina and Portugal, pitting Messi versus Ronaldo for the crown. As one would expect, this prediction has sparked a mix of reactions among soccer fans in the Gulf, who were divided between those who hoped another country would win and those who agreed with the pundit. For now, with AI and super technologies or without, we can only speculate about who might take the trophy home, but we sure are excited to find out as the season has kickstarted with a banging opening ceremony.
Now let's head to the Entertainment category and see what the hoopla is all about.
Entertainment
The end-of-year wanted pumpkin frenzy was in full swing this October, permeating the social ether and inspiring plenty of online conversations across the Entertainment category. From Instagram to TikTok, Fall season purists rushed to share their themed renditions, while foodies were also posting their fall-inspired recipes with a bit of hocus pocus, and lots and lots of pumpkins! Those yummy recipes are still doing the rounds on social media today. Brands were also jumping on the hype where we have clearly witnessed the return of the triumph Pumpkin Spice Latte to Starbucks MENA menus, welcomed with comments from the region's coffeeholics. Some even suggested that it should be available all year long—a novel idea!
We've also seen that Halloween, with its boo-ing pleasures, has gained wider popularity across the GCC this year. Posts from Saudi users dressed in spooky customs during the "Scary Weekend" event at Boulevard in Riyadh, which saw the entire landscape transformed into an adrenaline-gushing party, were all over social media. Conversations about the Halloween beach extravaganzas in Jumeirah, Legoland Resort Dubai Monster Party, and other spooktacular events were also highly trending. To add to the ghoulish fun, brands also seized the opportunity to communicate their own ghostly campaigns and offers on social media.
You think we're done? Think again. The chatter about Entertainment this month was uninterrupted with the Riyadh Season dominating the headlines. There was a high volume of user-generated content and news coverage around the different experiences one can enjoy there, including international shows, plays, daily fireworks, shopping festivals, and lots of music concerts. The conversations have been especially popular during the concerts of Lebanese superstars Haifa Wehbe and Elissa, who thrilled legions of attendants with their performances. There was no shortage of hype and our TikTok feed was proof of that.
Let us warn you before going through the next trending topic, it is not for the financially weak-hearted! We'd like to address the elephant in the room and talk about Netflix's current number-one trending series in the UAE, "Dubai Bling". The show hit Netflix on October 27, and boy did the internet go wild with reactions! For those who haven't watched it yet, it's a reality series focused on a group of millionaires living in Dubai showing how they live at their levels of success. All about luxury and style, it featured each cast member's extravagant displays of wealth. As more people watched the show, reaction videos to each of the cast were being posted. Was the show real or staged? What's the deal? Who is the fakest one among them all? Everyone had a lot to say about it, and they went to social media to do so.
Here we end the second top category, and now let's go to the Health discussions.
Health
This is the first time in several months that Health moves up to third place in our examination of the most buzz-worthy categories online in the Gulf.
#PinkOctober is the most obvious guess you can make when you think of the reason behind the spike in health conversations in October. And you're not wrong. We've seen plenty of organizations, health entities, and advocates turning their social media feeds to pink in honor of Breast Cancer Awareness month. But the conversations had an even wider breadth. Some took the educational route to raise awareness about the disease, sharing statistics and facts about it, while others prompted women to take action and get screened highlighting the importance of early detection. The pink campaigns were not limited to health entities, where many brands in the GCC also got involved. We've also seen videos on TikTok, Instagram, and YouTube featuring breast cancer survivors talking about how they fought such horrendous battles with the disease. Their stories were moving, inspiring, and very emotional.
In image above: Abu Dhabi Public Health intensifies breast cancer awareness campaign
If a little prevention is worth a pound of cure, then the Dubai Fitness Challenge is all about a pound of prevention and cure! The month-long annual fitness and wellness event comes as our next trending topic in the Health conversation. The chatter around the #Dubai30x30 fitness challenge was all over social media, with fitness influencers jumping on the bandwagon along with organizations, such as Dubai Chambers, RTA Dubai, MOHAP UAE, Mazda UAE, and more. They all shared their initiatives to encourage employees to adopt healthy habits. Dubaians are getting fit in droves, so what about you? Are you going to take part?
The importance of fitness and an active lifestyle was also apparent in our final trending Health story for the month. The World Health Organization's (WHO) Director-General Tedros Adhanom Ghebreyesus has posted a video tweet showing delegates grooving to the popular boy band BTS Permission to Dance song during one of their meetings. He added the following caption to his video tweet: "Physical exercise during long meetings is important. Thank you to @WHOWPRO colleagues for motivating us to stretch out bodies at #RCM73. As @BTS_twt says – we don't need #PermissionToDance or move. No matter what – be active, every step counts to keep yourself healthy!". The video immediately went viral among users in the GCC, and globally, igniting humorous reactions and applauds for how smartly it sends a message about the importance of having a healthy lifestyle no matter what the circumstances are. If this happens more frequently in the middle of long meetings, we'd hope there would be fewer cases of strokes out there!
And VOILA! Our October recap is over, but you can always get the latest scoop with our exclusive weekly newsletter. Until then, stay tuned for next month's hottest topics!