As the podcast space in the Middle East continues to grow and evolve, Communicate shares some recent insights from social media analytics and listening tool, Talkwalker on where the MENA region currently stands. In July 2019, data released by Markettiers MENA stated that there were 1.3 million podcast listeners in the UAE alone, which is more than enough reason for brands to begin exploring the medium in more detail, to be able to target niche audiences and engage with them. Some of the latest key figures about the state of the podcasts in the MENA region are listed:
From February 2019 till March 2020, there have been over 334K online mentions of podcasts happening in the Middle East, and have generated 1.3M in engagement.
The majority of these conversations come from Saudi Arabia, which accounts for the largest share, 52% to be exact. The UAE comes in second with 10%.
The demographics engaging in online conversations about podcasts in the Middle East is 64% male and 36% female. The majority of these individuals fall under the age bracket of 25-34, which is 52.1%. 28.9% fall in the 18-24 age group.
55% of the conversations around podcasts in the Middle East are in Arabic and 36% are in English.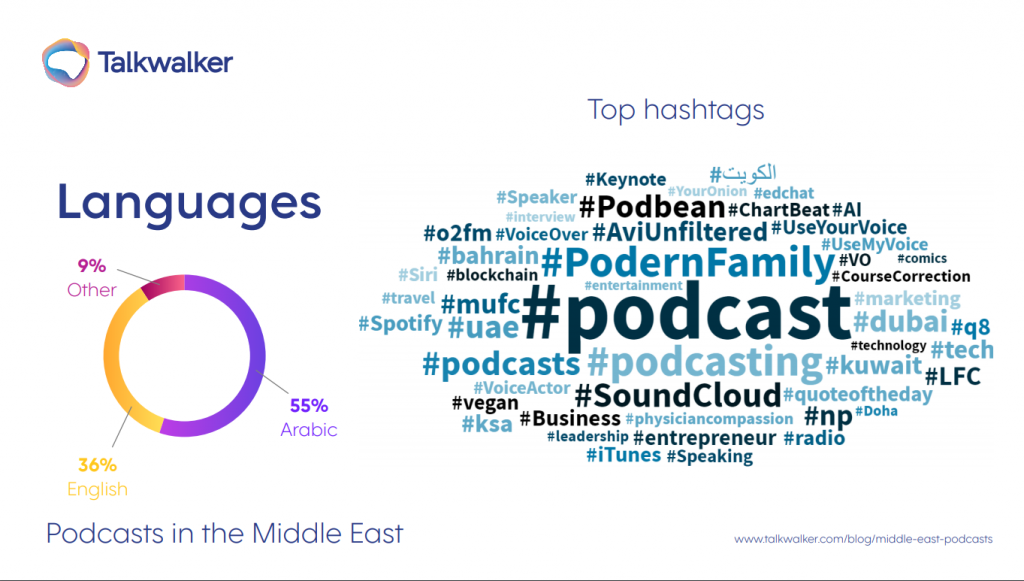 When it comes to sentiment towards podcasts, 60% of the audience seems neutral while only 10% had a negative approach towards the medium. But despite the negative perception, 92% of regular podcast listeners trust the medium more than traditional media sources.