YouGov's latest study measures sports fans' attitudes around the issues of social responsibility and equality, delving deep into their expectations of sports rights holders and their sponsors to get involved in these matters, and ultimately champion change. As those conversations enter our homes, workplaces, and schools, marketers have been discussing and studying the need to bring brand purpose and corporate social responsibility into their marketing mix. With activism on the rise and awareness around these issues constantly growing, younger generations, in particular, are expressing a preference for brands that deliver on those purpose statements.
Global following of sports is high
YouGov Global Fan Profiles reveals that over three-quarters of adults around the world follow sports (76%). Looking at regional fan base sizes across the 51 international markets surveyed, these range from 60% to over nine in ten (91%), with most markets globally at or over the 75% mark for levels of sports fans.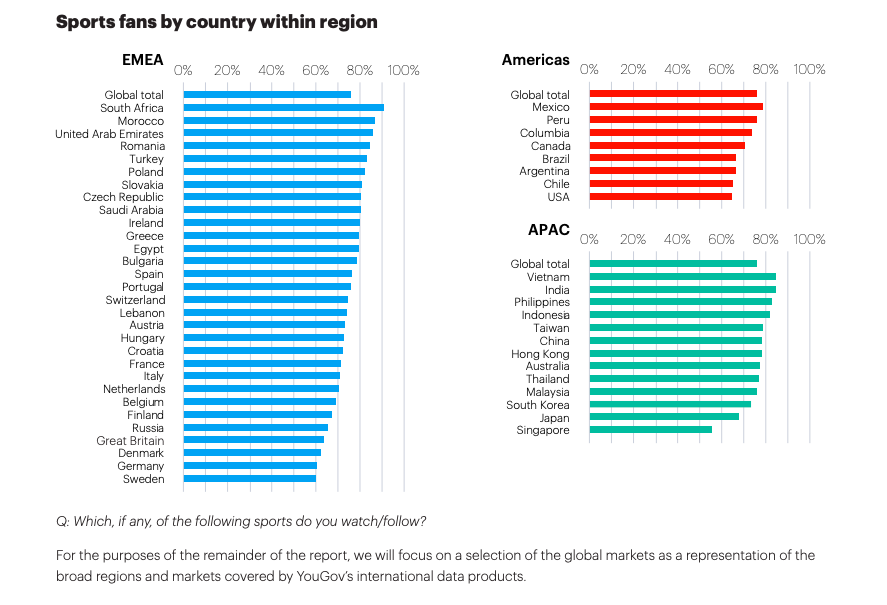 The popularity of sports spans all ages
Whilst men are more likely to watch or follow almost all types of sports than women, the differences by age are less pronounced, with strong sports following across all age groups.
Sports often play a huge part in national pride for a country, be it supporting their national team or a local athlete, but which sports are the most popular within different territories?
Data from YouGov Global Fan Profiles looks at the top three sports watched or followed by sports fans in select countries. Football is the most popular sport globally, followed by basketball and swimming. Its stronghold in popularity is evident in 9 out of 16 countries analyzed. American football and Australian rules football appear in pole position in the US and Australia respectively, with ice hockey ranking highest in Canada. In India, cricket dominates the agenda among sports fans, whilst in China basketball is the number one sport
YouGov Global Profiles data shows that the power of global sporting events to enhance international communities is far-reaching, with more than two-thirds of sports fans globally agreeing that events like the Olympics are good for the international community (67%). For Brits, the Olympic flame burns brightly, with almost eight in ten (79%) recognizing the value of the Olympics for the international community, compared to almost three-quarters of US sports fans, along with Indonesia, Italy, Germany, Spain, Poland, and Argentina, all registering 70% or above.
What matters to sports fans?
Sports fans are focused on the environment and sustainability. YouGov Global Profiles data shows that over half (53%) of global sports fans agree that 'I consider myself an environmentalist.' In addition, 68% of fans agree that 'I think green energy is the future,' and almost half (48%) agree that they would be 'willing to pay more for sustainable energy.' Sports fans are more likely to agree with these statements compared to the global total population as a whole, and also over-index on their commitment to only buy from companies with a social conscience.
Taking a deeper dive into YouGov's Global Profiles data, sports fans are also more likely than the average consumer to care about issues associated with diversity and inclusion. Since sports can bring people from different cultures and nationalities together, almost two-thirds (65%) of sports fans agree diversity and inclusion should be considered when putting on events, and almost seven in ten global sports fans feel more could be done, with 68% agreeing that 'Sports need to be more inclusive', suggesting there is clearly room for improvement within the sector. Interestingly, we see less variation by age around areas of diversity and inclusion compared to environmentally driven issues, with the over 55s equally supportive of the statement that diversity and inclusion should be considered when putting on events in general. However, a higher proportion of female sports fans than males agree there should be more consideration around diversity and inclusion when putting on events.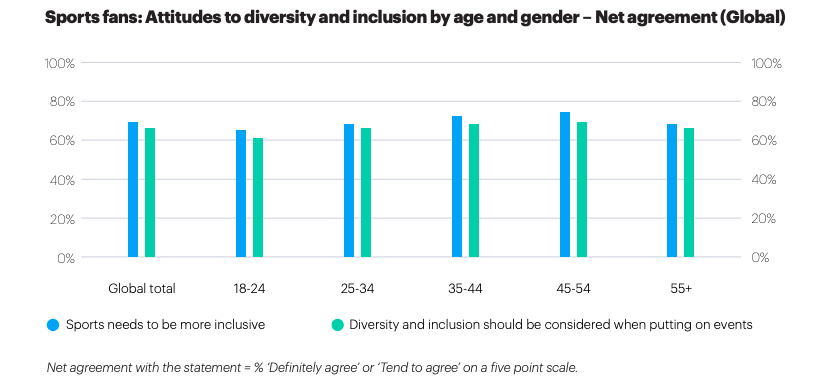 Global sports fans are championing equal pay. It is worth noting how more than half (51%) of global sports fans are in favor that the winner of the FIFA Women's World Cup should earn the same as the winner of the (men's) FIFA World Cup, and 56% agree the prize money should be the same for both male and female tennis tournaments. These views around pay disparity are slightly more pronounced among female sports fans than males.
Socially conscious sports fans are looking for a genuine connection with brands
YouGov US Profiles data shows that US socially conscious sports fans want brands to be genuine and authentic, aligning their values with society, understanding everyday challenges, and showing they care. Brands that are socially responsible can hope to be rewarded with an elevated relationship with sports fans. The challenge for sponsor brands and sports rights holders alike is to create campaigns that feel authentic and emphasize their mutual appreciation for social issues and sports.
Sports fans are looking for sports rights holders to lead the way
Recent YouGov Direct data reveals that sports fans feel it is appropriate for sports rights holders and athletes to get involved with social causes. Across the four countries surveyed, a sports representative appears in the top five public figures for whom it is appropriate to support social causes. Sports teams and leagues appear the first and second among the UK and Australian fan bases, and within the top three for German sports fans.
Engaging with socially responsible sports fans
With the growing interest in sustainability and social issues among sports fans, it is essential for marketers to understand how to reach these 'socially conscious' sports enthusiasts with the right media and marketing messages. In this section, we explore what types of media sports fans use to follow their favorite sports teams and leagues, their attitudes towards advertising and sponsorship, and how their consumption patterns and behaviors compared to the socially conscious sports fan.
The power of advertising
Looking at YouGov Global Profiles data, 55% of socially conscious sports fans say they pay attention to the advertising they see at events, and 50% of the socially conscious sports fan group say they often engage in conversations with friends and family about the advertising they have seen.
In terms of reaching the 'socially responsible' global sports fans, they have a greater propensity to consume all types of media than the global total population, they are more engaged in advertising and sponsorship, and are more likely to take action as a result of seeing this activity. While live TV is their media of choice for watching/ following sports, social media is becoming an increasingly important medium in communicating with socially conscious sports fans. At the crossroads of sports and social justice is a great opportunity for marketers to engage with an audience that has increasingly high expectations about sports organizations taking a stance on social issues, and that is strongly committed to both their favorite sports and the social issues discussed.